This Week in Reproductive Rights: Planned Parenthood protests, an ACLU challenge and more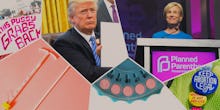 With President Donald Trump in office, anti-abortion factions now have their shot at achieving a cherished ambition: Cutting federal funding for Planned Parenthood. Almost immediately, Congressional Republicans moved to block federal dollars from going to the health care provider, effectively revoking the annual $500 million Planned Parenthood spends on cancer screenings, birth control, testing for sexually transmitted infections and other basic reproductive health services.    
In support of this cause, anti-abortion groups are convening nationwide protests at Planned Parenthood centers on Saturday. The "De-fund PP" protests are largely aimed at taking down Planned Parenthood as an abortion provider, despite the fact that government funding almost never goes toward abortion services. What they're really advocating for is cutting off those aforementioned health services, most often for low-income people and people of color, without any concrete suggestions as to where they might otherwise go for care.
As such, pro-choice forces will be holding protests of their own. But for those planning on counter-protesting, Planned Parenthood has a simple request: Don't.
"While the counter-protesters might have the best intentions, it might not always come across that way to the patient," a spokesperson for Planned Parenthood of Illinois told Slate. "It might be very confusing and almost frightening to walk into a clinic through large groups of people."
For those interested in speaking up for reproductive rights this weekend, it's worth looking into what pro-choice groups have scheduled for Saturday. In New York City, for example, the anti-abortion protest will take place at Planned Parenthood's Margaret Sanger Center, but the counter-protest will be held in Washington Square Park starting at 11 a.m. Mic will be at both events with live coverage.
Here's the rest of what you might have missed — the good, the bad, the cruel and the unusual: 
• At a Kentucky Right to Life rally on Wednesday, Gov. Matt Bevin ceremonially signed into law two bills limiting abortion to the first 20 weeks of pregnancy and requiring abortion patients to see the results of an ultrasound before undergoing the procedure. It seems Bevin was looking more to put on a show for anti-abortion supporters: He signed both bills for real back in January. In the spirit of pageantry, he also held a baby for the Wednesday signing.
• The ACLU in Arkansas will challenge a state law that bans a common second-trimester abortion procedure and gives spouses and family members the right to take legal action to prevent those seeking the procedure, with no exceptions for survivors of rape or incest.
• The state of Wisconsin fined 22 hospitals for violating a 2008 law which says hospital staff must give rape victims information about emergency contraception and provide them with the pill upon request. Apparently, hospitals throughout the state have occasionally failed to this, possibly because of religious affiliations.
• A 20-week abortion ban just passed in the Pennsylvania Senate with a 32-18 vote. However, it's unlikely the bill will ever become a law: Democratic Gov. Tom Wolf has called the legislation "radical and unconstitutional" and Republicans in the Senate lack the two-thirds vote required to override his veto.
• Democratic State Rep. Sara Feigenholtz is hoping to secure protections for abortion rights in Illinois by proposing a bill that would eliminate the state's "trigger provision," which would make abortion illegal the moment Roe v. Wade is overturned. If passed, the legislation would also allow for women on Medicaid or state health insurance to receive abortions under their coverage.
• A method of male birth control returned promising test results, according to a report released Tuesday. Vasalgel, a polymer gel injected into the vas deferens, is a long-acting, likely reversible contraceptive that proved entirely effective in a small-scale study of 16 monkeys. 
• In South Dakota on Monday, lawmakers in the House of Representatives advanced legislation that would outlaw abortion after 19 weeks, well before the onset of viability. They are also discussing a bill that would increase the penalty from a misdemeanor to a felony to perform an abortion beyond the deadline.
• After Gov. John Kasich signed a 20-week abortion ban into law in December, Republicans in Ohio are feeling hopeful about the other abortion restrictions they have up their sleeves. Ohio Right to Life has six measures planned, including a ban on a common second-trimester abortion procedure.
• Oklahoma state Rep. Justin Humphrey introduced a bill requiring those seeking abortions to first provide written consent from the fetus' father. The legislation would allow exceptions in the case of a deceased father, if the pregnancy is the result of rape or incest or if the pregnancy is a risk to the mother's life. But in all other cases, the decision about what a pregnant person should do is left up to men.