Cooking And Baking With Marijuana: 8 incredible pot-infused recipes that'll get you baked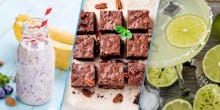 Cooking with marijuana is easier than it sounds. Pretty much any recipe that calls for butter or oil can be made with infused butter or infused oil and voila — edibles! 
"It's fascinating to me because people think it's really complicated and scary and hard," Cannabis Kitchen Cookbook author Robyn Griggs Lawrence, told Mic in May. "But it's really easy: You combine a fat and your ground cannabis and there you have it."
Mic has your beginner's guide to making marijuana edibles, but if you're ready to expand your infused foods repertoire, we have recipes for inspiration to take your stoner cooking to the next level. Happy munching!
Cannabutter
The most basic of cannabis cooking techniques, this cannabutter can be spread on your toast, swirled into your coffee or subbed into pretty much any recipe. Get the recipe here. 
Marijuana margarita
Cheers to the weekend with this drink that combines both tequila and pot. Good luck. Get the recipe here. 
Bacon-wrapped shrimp
Who said cooking with weed couldn't be sophisticated? These extra special hors d'oeuvres will both wow and satisfy your party guests. Just make sure you let them in on the special ingredient first. Get the recipe here. 
Mario Batali's double-chocolate pot brownies
Yes, that Mario Batali, orange Crocs and all, shared his super chocolatey infused brownies recipe in honors of the Denver Broncos playing in the Super Bowl in 2016. Get the recipe here. 
Pot hot chocolate
Move over red wine hot chocolate, this infused cocoa is a new way to adultify the cozy winter beverage. Get the recipe here. 
Cannabis spaghetti sauce
Cannabis oil and cannabutter come together in this slow-cooked spaghetti sauce that will make pasta night so much more chill. You can also spice up a jar of Prego if you're not feeling the whole homemade thing. Get the recipe here.
Marijuana infused blueberry banana smoothie with hemp protein 
Mornings just got so much better with this easy to make — and healthy! — infused smoothie. Get the recipe here. 
Cannabis infused honey
›The beauty of this honey recipe is that it's so versatile. You can drizzle the honey on toasty bread or apples or serve it on a cheese plate or just lick it off your fingers when you're craving a special treat. Get the recipe here.