20 of the best romantic movies on Netflix in 2017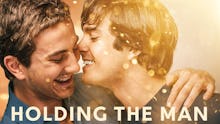 Netflix documentaries and superhero-themed works are great, but sometimes nothing hits the spot quite like a good romantic movie. Cuddling up on the couch with your loved one in front of the TV always makes for a relaxing date night — and Netflix is here to ensure everything goes smoothly. So, if you're looking to impress that special someone, light a few candles, pop some popcorn and browse through our list of the 20 best romantic movies on Netflix in 2017. 
This is a story of love, actually, and follows eight different couples as they navigate their way through Christmas. Set in London, this movie provides a tough look into a troubled marriage, a lonely rockstar, enmeshed siblings, political figures and more. It doesn't exactly work out for all the characters, but at the end of Love Actually you'll certainly feel that love is in the air.
This movie can be summed up in one word: adorable. This Wes Anderson film is a love story between a young boy and girl set in the '60s. They'll do anything for love, including running away. The entire town sets out to search for them and quirky hilarity ensues. This film is as funny as it is romantic. 
For those looking for supernatural love, Twilight will hit the spot. When a centuries-old vampire falls head over heels for a teenage girl, pandemonium follows. The local werewolves don't take kindly to Edward's intentions toward Bella, and he must fight against not only his own blood-sucking instincts but also his sworn enemies. 
Michael Bolton believes in two things: "One, roses, and two, that there's somebody out there for everyone." His goal for this Valentine's Day special is simple — Bolton wants to get you "lovemaking." In order to accomplish his mission, the singer hosts a sexy telethon. If you're a fan of The Lonely Island's "Jack Sparrow" spoof, you'll probably love Michael Bolton's Big, Sexy Valentine's Day Special.
Jane is happy in her new station as a governess, and her lot is made even better after meeting Mr. Rochester, the master of the house. Their relationship blossoms and she finds herself falling in love, but Mr. Rochester has a terrible secret that could destroy everything.
Bridget Jones struggles with her self-worth but decides to take control of her life in the new year. To start, she plans on keeping a diary and revealing absolutely everything on its pages. She's been lonely for quite some time, but soon finds the attention of both her boss and an acquaintance she just can't seem to stop running into.
When a Sevillian decides to leave his homeland to follow a Basque girl, what follows is a clash of epic proportions. It's a hilarious coming together of two cultures, but love has a way of transcending boundaries.
In 1795, the now-legendary Jane Austen was just a 20-year-old emerging writer with a dream of marrying for love, not political positioning. Her parents want her to marry a wealthy local aristocrat, but Jane has her eyes on a handsome and arrogant young man with whom she quickly falls head-over-heels in love.
Amélie never had a real childhood due to her perceived heart defect, but as an adult, this innocent young woman is determined to live. After finding a lost treasure and returning it to its rightful owner, Amélie dedicates herself to helping others and happens to find love for herself along the way.
A story of time travel and love, Kate & Leopold follows an unlikely couple as they find love in the most unusual way. Leopold is from the 19th century but bumps into Kate after accidentally traveling to the 21st century. The two discover that even though they're separated by more than 100 years of time, they have more in common than they might think.
For those interested in history, this love story is just for you. Set in 48 B.C., this tale centers around Cleopatra and her relationship with Caesar.   
This is William Shakespeare like you've never seen him before. The young playwright has sold his next play, but he's yet to come up with the plot and hasn't even begun writing. He needs inspiration — and thankfully, Viola is there to answer the call. Though Shakespeare is already married and Viola is to wed Lord Wessex, the two dare to love each other. 
Prem owns a cassette shop in Haridwar, but his father is intent on getting his son married. They set out to a local temple and meet Sandhya, a young girl who doesn't fit their traditional view of what is beautiful. Even still, the two end up getting married. Their wedding night is plagued with difficulties, however, and the whole family finds out why the next morning.
Todd is the manager of a call center who's forced to move to India to train his replacement after his company decides to outsource. He reluctantly obliges but isn't exactly loving his station, especially since the majority of his team doesn't speak English very well. Todd is on a mission to teach them about America, but one Indian girl shows him the value of her own country, and Todd ends up finding beauty where he used to see ugliness.
Cecilia and Robbie are happy and in love, until Cecilia's younger sister Briony ruins everything. An aspiring writer with a wandering mind, Briony invents a dangerous narrative after spotting Cecilia and Robbie being intimate. After Briony accuses Robbie of rape, his and Cecilia's love is put to the ultimate test.
Tim and John fell in love while attending an all-boys school, and their romance has burned brightly for 15 years. Nothing could stand in the way of their relationship, except for the one problem not even love can solve.
Chul-Soo comes from a family of renown thieves, while Young-Hee hails from a family of police officers. Even still, this mismatched couple falls in love. They're determined to get married, but Chul-Soo has to get Young-Hee's parents' permission first. He'll do whatever he has to in order to win their favor — including becoming a police officer himself.
Tyler Gage is a troublemaker who loves to party, steal cars and dance. After vandalizing the Maryland School of Arts, he's sentenced to 200 hours of community service. That's when he meets ballet dancer Nora, whose relationship with Tyler blooms as helps her with choreography. This is a movie about love, but it also has some excellent dancing scenes.
Mary is the best wedding planner in San Francisco. When she plans a wedding for a handsome doctor, she breaks the biggest rule of all: Don't fall in love with the groom. 
Bruce was a 13-year-old salsa dancer with unlimited potential when a bully robbed him of his confidence. Twenty-two years later, he's become trapped in his own downward spiral. That's when he meets Julia, a beautiful woman who brings new meaning to his life.