In one tweet, Hillary Clinton just scorched Donald Trump on his 9th Circuit loss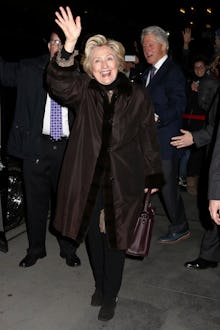 Since President Donald Trump's victory, Hillary Clinton has mostly kept her opinions about her former opponent and his new administration to herself. After conceding the election to Trump, Clinton spent most of her time hiking in the Chappaqua woods and seeing Broadway musicals with her husband and daughter before graciously appearing at Trump's inauguration in January. 
Which is why it came as a shock to many when Clinton, the picture of grace and poise, tweeted out what some might call a "sick burn" Thursday night in response to the 9th Circuit Court of Appeals' 3-0 decision to uphold a block on Trump's travel ban.
She didn't direct the tweet at Trump — she didn't make any explicit mention at all to his executive order banning immigrants from seven Muslim-majority countries, or the resulting chaos that followed.
Basically, it was a subtweet.
Clinton's simple message of support for the court's decision stood in stark contrast to Trump's own reaction to the news.
"SEE YOU IN COURT," the president tweeted. "THE SECURITY OF OUR NATION IS AT STAKE!"
Twitter users didn't hesitate to point out the irony of Trump's message: After all, he had, in essence, just arrived back from court. And, well, he'd lost.
The court's Thursday night ruling doesn't mean Trump's ban has been deemed unconstitutional. But it's still a major victory for the travel ban's opponents. 
Clinton's brutal own, we imagine, was just the icing on the cake.