Twitter roasts Trump for his latest all-caps tantrum over losing in 9th Circuit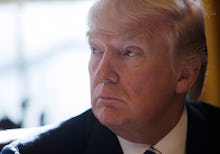 President Donald Trump didn't take well to news that the 9th U.S. Circuit Court of Appeals had decided to uphold a block on his travel ban.
The federal judges' unanimous decision doesn't mean Trump's ban on immigrants from seven Muslim-majority countries is unconstitutional, but it does mean officials can no longer legally enforce it. 
But for Trump, it's not over 'til it's over. And that means telling the judges who just overruled his executive order that he'll see them in court. In all caps.
Twitter users jumped on the opportunity to roast Trump for his melodramatic response, seemingly ripped straight from a courtroom drama. And so, on a politically turbulent Thursday night, "SEE YOU IN COURT" became meme gold.
Others couldn't resist pointing out the irony of Trump apparently challenging the judges who handed down his losing ruling to a legal battle:
And, of course, the American Civil Liberties Union wasn't going to miss the chance to chime in.
Nice try, Trump — but it looks like the court of opinion wins this round.