Rosie O'Donnell's new Twitter photo is the best audition for her to play Bannon on 'SNL'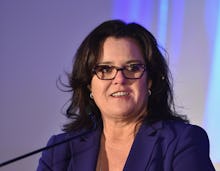 After actress Melissa McCarthy played Sean Spicer on Feb. 4's Saturday Night Live — and after Donald Trump announced he was thoroughly irked that a woman had posed as his male White House press secretary — one of Trump's long-standing adversaries got a clever idea.
Comedian Rosie O'Donnell tweeted Monday that she was was "available" to play top Trump adviser Steve Bannon on SNL, writing "If called — I will be ready."
Twitter users immediately leaped at the suggestion, while others took the opportunity to imagine an SNL skit with an all-female cast playing Trump's male-dominated administration. 
On Thursday night, O'Donnell gave us a taste of what that could look like when she swapped out her Twitter avatar with this face meld of her and Bannon:
If Trump was miffed by McCarthy's portrayal of Spicer, one could only imagine the rage the president would feel upon seeing O'Donnell play Bannon.
Throughout his presidential campaign, Trump made a point of stoking his heated feud with O'Donnell, which began over a decade ago when she slammed Trump for his failed marriages and questioned his status as a "self-made man" on The View. 
Trump, of course, responded by calling O'Donnell and other women "fat pigs," "dogs," "slobs" and "disgusting animals" and defended these sexist insults during a September presidential debates.
"Somebody who's been very vicious to me [is] Rosie O'Donnell," Trump said at the time. "I said very tough things to her. And I think everybody would agree that she deserves it and nobody feels sorry for her."
We're guessing O'Donnell believes Trump deserves whatever's coming his way, too.