Tom Price confirmed as health secretary after 2 a.m. Senate vote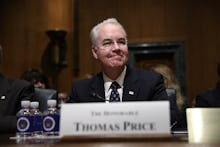 In an early morning Senate vote that fell along party lines, Rep. Tom Price was confirmed as President Donald Trump's secretary of the Department of Health and Human Services.
Price, a Republican from Atlanta, was confirmed around 2 a.m. Friday in a 52-47 vote, which now makes him a key player in Trump's plans to repeal and replace the Affordable Care Act. It's a role in which he will certainly be comfortable as Price has long been a fierce and vocal critic of former President Barack Obama's signature legislative achievement. 
As a member of the House, Price, a former orthopedic surgeon, has pushed for dramatic cuts to health care programs for lower-income Americans such as Medicare and Medicaid. Those views, along with his financial ties to several pharmaceutical companies while a member of Congress, made him an extremely unpopular pick among Senate Democrats — none of whom voted for his confirmation.
"What a terrible choice for HHS," Connecticut Democratic Sen. Chris Murphy tweeted after the vote.
Prior to the vote, ranking Senate Democrat Chuck Schumer tweeted the "Top 10 reasons why Pres. Trump's HHS nominee #PriceIsWrong." The list included references to articles in the media that gave examples of his controversial stances on healthcare.
Price's record when it comes to reproductive rights was especially troubling to Democrats. During his confirmation, he was aggressively questioned about his policies on women's health. 
"I have serious concerns about your understanding of women's need for basic health care like birth control, given your expressed doubts on this topic, your proposals to make women pay extra out of pocket for birth control and your repeated efforts to defund our nation's largest provider of women's health care, Planned Parenthood," Sen. Patty Murray (D-Wash.) said during Price's January hearing.