Niko snowfall totals for New York, Massachusetts, New Jersey and more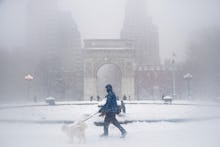 Don't put away those winter boots just yet. Winter storm Niko made good on that Groundhog's Day promise for more winter, dumping record-setting levels of snow, and even some cases of thundersnow, across the northeast Thursday.
The explosive storm, which rolled in and out in a hurry, left at least one person dead in New York, left more than 57,000 without power in Massachusetts and left thousands stranded as more than 3,700 flights were cancelled across the U.S., with nearly 1,800 of those flights cancelled at New York's three main local airports. Hundreds of schools were closed Thursday in Boston, Pennsylvania, New Jersey and New York.
According to the Weather Channel, some areas saw record-breaking snowfall, with extreme rates per hour. Islip, New York, which picked up 13.7 inches total Thursday, and broke a daily snowfall record for Feb. 9. The original record was 11.1 inches, set in 2013. 
The New York Times reported that New England was hit the hardest. With winds exceeding 35mph and visibility down to less than a quarter of a mile, the storm was upgraded to a full-blown blizzard in Massachusetts. Despite the weather, Boston's transit system, which has undergone heavy weatherization upgrades, maintained service without a hitch. The acting general manager of Boston's transit authority, Brian Shortsleeve, said that despite the weather, the transit system was "running smoothly across the board," according to the Times.
Total snowfall for many states in the northeast exceeded 8 inches, with scattered reports of thundersnow and blizzard conditions, the Weather Channel reported. Connecticut was hit hard, with the state's lowest reading at 6 inches in Darien and Windsor clocking in a hefty 20 inches. Maine saw a similar range, with South Portland getting 8 inches and Perry, which brushes up against the eastern U.S.-Canadian border, saw a whopping 20 inches.
As of Thursday night, the Weather Channel reported the following snowfall totals from across the northeast: 
— Massachusetts: 19.0 inches in East Longmeadow; 18.0 inches in Ludlow; 17 inches in Westfield; 16.0 inches in Springfield; 12.9 inches in Worcester; 10.7 inches in Boston/Logan Airport
— New Hampshire: 17.0 inches in Nottingham; 16.5 inches in Merrimack; 15.0 inches in Litchfield; 8.0 inches in Concord
— New Jersey: 11.3 inches in West Milford; 11.1 inches in Highland Lakes; 10.3 inches in Wantage; 10.2 inches near Montague; 7.8 inches in Newark
— New York: 16.3 inches in Gilderland; 14.4 inches in Farmington; 13.7 inches at Islip Airport; 13.5 inches in Eastport; 12.8 inches near Albany; 10.6 inches at Islip; 10 inches at La Guardia Airport; 9.4 inches in Central Park; 8.3 inches at JFK Airport
— Pennsylvania: 11.0 inches in Flinton and near Champion; 10.8 inches in Clarks Summit; 7.1 inches in Allentown
— Rhode Island: 14.5 inches in North Foster; 11.9 inches in East Providence; 10.9 inches in Providence
— Vermont: 9.0 inches in Woodford; 8.2 inches in Manchester; 8.0 inches in Putney.