Flynn and Pence said the Trump transition didn't discuss sanctions with Russia. Flynn did.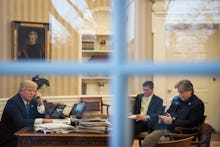 When it was revealed that President Donald Trump adviser Michael Flynn had been in contact with Russian officials during the presidential transition, Trump's team consistently denied that Flynn addressed sanctions imposed by the U.S. in response to Russia's alleged meddling in the American election. Now that Trump has taken the oval office and installed Flynn in a top job as national security adviser, though, allegations are surfacing that the denials were lies. 
The Washington Post reported on Thursday that based on testimony from a slew of officials, Flynn not only spoke with Russian Ambassador Sergey Kislyak, but engaged in possibly illegal signaling to the Kremlin that he could grant a reprieve from those sanctions. 
Under questioning from the Post and others, Flynn backtracked on his previous denials. Through a spokesman, he said that "while he had no recollection of discussing sanctions, he couldn't be certain that the topic never came up."
Nine anonymous officials, some from the current administration and some from the administration of former President Barack Obama, confirmed to the Post that Flynn had spoken to Russia about the sanctions specifically. One said, bluntly, that Kislyak "was left with the impression that the sanctions would be revisited at a later time."
The New York Times reported late Thursday that not only did the conversations with Kislyak address sanctions — Flynn "urged Mr. Kislyak to keep the Russian government from retaliating over the coming sanctions ... by telling him that whatever the Obama administration did could be undone" — but that a transcript of the discussion exists.
But Flynn wasn't the only top Trump official giving pat denials that he hadn't engaged in inappropriate behavior during the transition. Vice President Mike Pence's robust public defenses of Flynn have also been called into question. In an interview with CBS News program Face the Nation in January, Pence was steadfast in his denial that Flynn had spoken with Russia about sanctions at any point during the campaign. "They did not discuss anything having to do with the United States' decision to expel diplomats or impose censure against Russia," Pence told host John Dickerson.
"I think to suggest [that advisers or Trump campaign members had contact with Russia] is to give credence to some of these bizarre rumors that have swirled around the candidacy," Pence noted during the interview.
"Bizarre rumors," huh?
According to the Post, an administration official stressed on behalf of Pence that the vice president had based his previous denial of the sanctions talk on conversations he'd had with Flynn.