Republicans feel wrath of angry constituents at fiery town hall meetings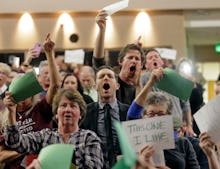 A couple of Republican congressmen in traditionally Republican pockets of the country were greeted by throngs of angry constituents at town hall events Thursday night — facing tough questions on holding President Donald Trump accountable, as well as the repeal of the Affordable Care Act. The discontent so early in a unified Republican government could signal trouble for the GOP.
The most raucous event Thursday was held by Rep. Jason Chaffetz, the Utah Republican and chair of the House Oversight Committee, which is tasked with investigating ethical breaches in government.
More than 1,000 people attended the town hall, with hundreds more unable to get into the auditorium, according to NPR. Large chunks of the crowd booed and jeered Chaffetz throughout the evening.
He was asked about everything from Trump's travel ban to Republican efforts to defund Planned Parenthood, according to NPR.
But the loudest outcry, according to CNN, came when a constituent asked why Chaffetz is not investigating Trump's refusal to release his tax returns as hard as he investigated former Secretary of State Hillary Clinton's email server.
"The president, under the law, is exempt from conflict of interest law," Chaffetz said, riling up an already riled up crowd.
Inside, constituents chanted "Do your job!" while the overflow crowd outside chanted "Chaffetz is a coward!" 
Chaffetz was not the only Republican member of Congress in a heavily Republican area to face angry constituents.
In Murfreesboro, Tennessee, Rep. Diane Black, chair of the powerful House Budget Committee that will have a major role in the possible repeal of the Affordable Care Act, was also met by a packed crowd of angry constituents. 
"I have to have coverage to make sure I don't die. There are people now who have cancer that have that coverage, that have to have that coverage to make sure they don't die," a man CNN identified as Mike Carlson said. "And you want to take away this coverage — and have nothing to replace it with! How can I trust you to do anything that's in our interest at all?"
Another woman at the town hall, identified by CNN as Jessi Bohon, asked Black why Congress is "punishing our sickest people" by trying to repeal the ACA.
"As a Christian, my whole philosophy in life is pull up the unfortunate," Bohon said, according to CNN. "The individual mandate: that's what it does. The healthy people pull up the sick."
This was not the first crop of town halls where Republicans faced angry constituents.
On Feb. 4, Rep. Tom McClintock of California had to be escorted out of a town hall by police after he was met by hundreds of protesters, according to the Los Angeles Times.
And in January, Rep. Mike Coffman — a Republican who represents a swing district in Colorado — snuck out a back door at a community event to avoid more than 100 constituents at an event.
It's unclear whether these town halls will have any impact on these members of Congress' electoral chances in November 2018, as many of the members being met by angry constituents represent heavily Republican districts.
However, the simmering anger this early — before Congress has even released its plan to repeal, replace or repair the ACA — could be the first warning signs of trouble for the GOP.
The town halls had an eerily similar vibe to town halls in 2009, when Democrats drew constituent ire over negotiations of the health care law. Those fiery town halls were the first sign of trouble for the Democratic Party, which went on to get decimated in the 2010 midterm elections, losing control of the House, as well as numerous governorships and state legislative seats.
"It's far too early to know what the public mood will be like in the fall of 2018," Stu Rothenberg, a non-partisan political analyst, said in an interview. "But the protests convey a sense of chaos, and it surely is possible that that chaos could lead to voter fatigue with President Trump and his party."