Hundreds of whales are dead after swimming too close to New Zealand shore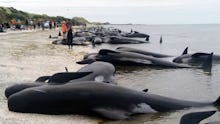 Between 250 and 300 pilot whales are dead after a wave of them washed ashore on Farewell Spit in New Zealand Friday.
According to the New Zealand Department of Conservation, volunteers attempted to re-float over 100 of the estimated 416 beached whales with partial success. About 50 of the whales swam out, while 80 to 90 re-stranded on the beach.
According to New Zealand-based marine-focused charity Project Jonah, the country has one of the highest rates of strandings in the world, and pilot whales are the most likely to fall victim to the epidemic. Project Jonah noted that if one or two whales become stranded, they will send out distress signals and the species' "strong social bonds" will encourage the rest of the pod to come help. A receding tide can easily strand the entire pod, resulting in mass strandings.
The Department of Conservation stated that this current stranding is the third largest recorded in New Zealand, noting that the highest-ever New Zealand stranding was in 1918, when 1000 whales were beached on the Chatham Islands.
The Department of Conservation noted that volunteers are helping to keep the stranded whales comfortable until dark, but that the DOC doesn't work with stranded whales after sundown, citing safety concerns that are difficult to manage after dark: "Whales can become agitated when stressed and can injure or even kill a human with a small flick of a whale fin or tail. They also carry diseases so people need to avoid contact with blowhole exhalent or body fluids."