How fashion's biggest names are standing up for Planned Parenthood at New York Fashion Week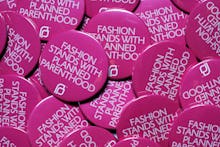 At New York Fashion Week, which officially kicked off on Thursday, the must-have accessory isn't some uber-expensive bag or a sick pair of boots. It's a small pink pin with a very important message. 
For NYFW, the Council of Fashion Designers of America teamed up with Planned Parenthood to manufacture bright pink pins that read "Fashion Stands With Planned Parenthood." 
Already, fashion's biggest names have been spotted wearing them at the shows, like Vogue editor in chief Anna Wintour,  Rihanna's favorite designer, Adam Selman and Diane von Furstenberg. 
In an effort to raise awareness and funds in support of Planned Parenthood and access to sexual and reproductive health care, the pins, which were designed by the Creative Group at Condé Nast, were distributed to all designers, PR agencies, modeling agencies and even just fashion week locations. 
"We know that so many people stand with Planned Parenthood — including designers and entertainers — because they and their loved ones have relied on Planned Parenthood for health care, including life-saving care like cancer screenings, birth control, STI testing and treatment and sex education," designer Tracy Reese, who's wearing the pin this week, said in a statement. "By creating a visually engaging and fashionable pin, we hope to create an organic social media movement promoting awareness and education." 
Other than Reese and Selman, designers participating in the effort include Carolina Herrera, Kate Spade, Narciso Rodriguez, Tory Burch and Zac Posen. 
Of course there is reason that the CFDA and designers alike have moved to support the organization in this way, at this time. Currently, Planned Parenthood faces a massive threat from the conservative Trump administration, which has already talked about defunding it. 
"Civic responsibility is an important CFDA pillar," Steven Kolb, CFDA's president and CEO, said in a statement. "Defunding Planned Parenthood will impact millions of Americans. We will raise awareness and support this fashion week and show that Fashion Stands with Planned Parenthood." 
Given how the fashion industry is largely composed of and focused around women, it makes sense that the threat of defunding would cause alarm. But there are already some people noticing that while fashion has been quick to support Planned Parenthood and actions like the women's marches, it's remained disturbingly mum about the travel ban implemented by Donald Trump. 
In a time when so many organizations and people are in peril, it'll be interesting to see how each individual designer reacts with their own collections this week.