BeatsX vs Apple AirPods: Here's how the two recently-released earphones compare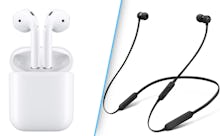 Apple's BeatsX wireless earbuds are available globally on Friday, Feb. 10 after being made available at select Apple stores in the US. The tech giant has another wireless ear device — the non-Beats branded Apple AirPods — which were released in December 2016. Here's how the two compare.
BeatsX vs. Apple AirPods: Price and Colors
The BeatsX earphones — available in black, white, gray and blue — retail for for $149.95. This makes them roughly $10 cheaper than the AirPod, available only in white, which are priced at $159.
As such, BeatsX is hardly a "budget friendly" version of the AirPod. That said, BGR reported that Apple is now giving customers three free months of Apple Music, a $30 value, when they purchase BeatsX earphones — the promo is also applicable for most other wireless Beats accessories as well.
BeatsX vs. Apple AirPods: Design
The AirPods are completely cordless while the BeatsX earphones still have a cord joining the two earbuds together. Both are wireless, so users do not have to plug anything in. While AirPods are two separate pieces that go into your ears, BeatsX has a wire that goes behind your neck to join to the two pieces for your right and left ear.
BeatsX vs. Apple AirPods: Compatibility
BeatsX are compatible with iOS devices, Macs and "non-Apple hardware like Android smartphones," the Verge reported. The AirPod, on the other hand, works on Android devices but with limited capacity. Android Authority reports that a lot of the features on AirPods do not work on Android devices and the advertised five hour battery life is not applicable to devices that are not iPhone 7s.
BeatsX vs. Apple AirPods: Battery
Both the BeatsX and AirPods use Apple's custom-designed W1 chip, which, according to Apple, "produces extremely efficient wireless for a better connection and improved sound." Additionally, it provides extra battery life. For AirPods, this means users can listen to content for up to 5 hours on a single charge. But the BeatsX earbuds top that: The battery life of the earbuds are up to 8 hours and a 5 minute charge can extend the user's listening time by two hours.