'Jane the Virgin' Season 3 Theories: Will Jane start dating Rafael?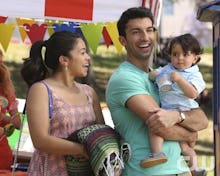 Now that Michael is dead, Jane the Virgin fans are wondering what Jane will do next. All of the focus from Rogelio's baby drama has shifted onto Jane's tragic new life as a young widow. She just got married. And now this?
Team Rafael
Some fans are already speculating that Jane will fall back into the arms of a familiar man: Rafael. 
There are fans who are even rooting for that to happen. We've seen evidence of #TeamRafael for a while (especially around Jane's wedding.)
Ausiello weighs in
Michael Ausiello, founder and editor-in-chief of TVLine, has his own opinion (and scoop!) on when Jane and Rafael will become an item. He revealed it in the latest edition of his "Ask Ausiello" column. According to what he's heard, the answer is, "You may have to wait a while."
"Turns out Rafael spent the intervening three years [after Michael's death] doing time and doing a new lady (who may or may not have a Friday Night Lights connection)," he wrote in TVLine.
Ausiello also said that the aforementioned lady may be the woman featured in this picture, which was pulled from actor Justin Baldoni's Twitter; Baldoni plays Rafael on Jane. For clarification, the woman in question is the one on the left (actress Minka Kelly) — the lady in the middle is Baldoni's co-star Yael Grobglas, who portrays Petra.
May the speculation continue.