New Texas bill may let therapists practice conversion therapy in name of religious freedom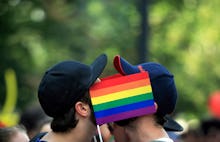 Three Republican state senators introduced a new "religious freedom" bill to the Texas legislature that, if passed, would open the door for therapists to practice the harmful practice of conversion therapy, the Texas Observer reports. 
Advocates say conversion therapy turns gay kids straight, even though science shows it does not work and is basically psychological torture. Five states and Washington, D.C., have banned the practice, which is widely discredited in the medical community. 
Republican state Sens. Charles Perry, Brian Birdwell and Bryan Hughes introduced SB651 last week. The bill would protect professionals in licensed occupations — like therapists — from any action taken against them by a state agency for violating a policy that goes against their religious belief. The purported aim of the bill is to cut down on regulation, but really it opens the door for people's religious beliefs to trump the policies of an agency that issues licenses. 
Given that therapy is a licensed profession, Eunice Hyon Min Rho of the American Civil Liberties Union told the Observer that the bill may be a "pre-emptive strike" against efforts to ban conversion therapy. David Pickup, a licensed counselor and conversion therapy practitioner in Dallas, told the Observer that SB 651 is "a good step in the right direction." 
"For those therapists who are religious, certainly it would apply," Pickup said. According to the Observer, Pickup has fought to keep conversion therapy alive in other states, as well. Pickup did say, however, that he would prefer if the bill had language that mentioned therapy specifically. 
Rho said the bill is similar to another bill in Arizona, but is more extreme. Arizona's has exceptions for law enforcement and medical professionals, but Texas' bill does not. "It's just really alarming. There are no limitations to this bill."
Texas legislators are also currently weighing a proposed anti-trans bathroom bill similar to North Carolina's infamous HB2, which in part required North Carolinians to use the public restroom that matches their gender assigned at birth rather than their gender identity. Earlier this week, while defending the bill, Texas state Rep. Briscoe Cain dismissed anti-trans violence as "dudes in dresses getting beat up." 
Rho says lawmakers may be using the bathroom bills as a distraction to pass this legislation. The senators who introduced the bill did not immediately reply to requests for comment. 
"I think because some of the bills are receiving more attention than others, it's a way for them to sneak some stuff through with a little bit less fanfare," Rho said to the Observer. "This is a tactic we've seen in countless states."