Seattle bar creates "Congratchulayshuns Betsy!!!" sign and the internet just doesn't get it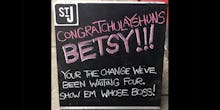 For coffeeshops and restaurants, chalkboard signs are a blank slate (literally) used to lure customers by announcing special deals, showing artful sketches or telling the occasional joke. 
In Seattle, one bar and eatery decided to decorate its chalkboard with a wisecrack based on current politics. On Tuesday, Saint John's Bar and Eatery placed a board that read "Congratchulayshuns Betsy!!! Your the change we've been waiting four. Show em whose boss!" 
The grammatically incorrect message appears to poke fun at Betsy DeVos' confirmation for secretary of education. Many senators and Americans felt DeVos was unqualified for the high-level position. She has previously championed charter schools over public schools, her family donated hundreds of thousands of dollars to senators and she didn't understand basic concepts of education policy when questioned during a Senate confirmation hearing. 
"I started doing [cheeky chalkboard signs] when we opened several years back to let our new neighbors know we have a sense of humor and that Saint Johns is a safe place for everyone," Michael Lee, a co-owner of Saint John's and the artist behind the DeVos sign, said in an email. 
Lee explained that the restaurant is "in a neighborhood and city that deeply values social justice and community." The goal of the signs: To contribute to ongoing conversation or simply to "make people smile," Lee said. 
The Saint John's sign promptly went viral and has been shared over 17,000 times on Facebook as of Friday morning. 
Some Facebook users criticized the sign: 
Saint John's Facebook page tried its best to clarify that the sign was satire. On many comments, Saint John's replied "This is satire" ad nauseam. And the restaurant kept serving up the humor to other people who were eating it up. 
One user summed up what many others echoed — that the most worrisome part of the sign was that some people couldn't comprehend the joke. 
"While the response has been overwhelmingly positive, this experience has shown me how quickly people are processing all the information coming at them these days," Lee said. "Often at the expense of misunderstanding the content."
The Saint John's website has a photo gallery dedicated to its past chalkboard signs and drawings. One thing's for sure, Lee and his staff clearly have opinions and a way with chalk. 
"For me, I see [the chalkboards] as a way to reach a lot of people both on the street in front of our restaurant, and now, obviously, on social media," Lee said, explaining that Saint John's strives to back up their talk with action. "A very small example — we recently held a series of postcard writing parties to hold our public officials accountable to their constituents and also thank them when they stick their necks out for what is right." Lee said it's "in Seattle's bones" to be a part of both the conversation and the solution.