How Kirsten Gillibrand became part of the resistance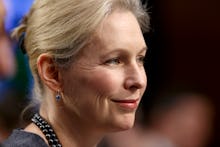 As for many other attendees, the Women's March on Washington — believed to be the largest one-day demonstration in U.S. history — on the day after inauguration served as a moment of political reawakening for Sen. Kirsten Gillibrand (D-N.Y.).
"It was the most inspiring thing I've ever participated in my life," Gillibrand said during a recent interview in her Washington Senate office. "It was the beginning of a rebirth of the women's movement."
When she was appointed by former Gov. David Paterson to fill Hillary Clinton's Senate seat in 2009, it would have been hard to imagine Gillibrand as a standard-bearer of the left; while serving in the House of Representatives, she was a moderate Blue Dog Democrat who once held an "A" rating from the NRA. 
"I'm part of the resistance of people who are standing up, from the grassroots up." — Sen. Kirsten Gillibrand
But once in the Senate, Gillibrand became a fierce advocate for women's rights, particularly on equal pay and combating sexual assault in the military. On Tuesday, she introduced a bill alongside Rep. Rosa DeLauro (D-Conn.) that would guarantee paid family leave for all Americans.
While Gillibrand would hardly call herself a radical today, it's no stretch to say the surge of opposition to the administration of President Donald Trump — from women to immigrant rights groups to LGBTQ populations — has led her closer politically to those wearing "pussy" hats on the National Mall.
"I'm a champion for issues because I've heard from my constituents," Gillibrand said. "I'm part of something much larger. I'm part of the resistance of people who are standing up, from the grassroots up."
She may not be as nationally known as her counterpart Elizabeth Warren (D-Mass.) in the Senate, but Gillibrand has quietly emerged as one of the leading voices in the opposition to Trump, earning her praise from progressives.
She is the only Democrat who has voted against every one of Trump's nominees, with the exception of UN ambassador Nikki Haley. In fact, she was the only senator at all to vote against General James Mattis for secretary of defense; Warren, by contrast, attracted liberal scorn when she backed Ben Carson as HUD secretary. In addition, Gillibrand has said she will oppose Trump's Supreme Court pick, Judge Neil Gorsuch.
"I've looked at every single one of [the nominees] on the merits and made a decision based on whether they share my values," Gillibrand said. "The problem is [President Trump's nominees] do not share New York values or any progressive values. They don't have records that would earn my vote."
In addition to attending the Women's March, Gillibrand recently delivered a fiery speech at a Battery Park rally in New York City against Trump's controversial immigration executive order, which bars immigrants from seven Muslim-majority nations from entering the country, including all refugees.
"President Trump's executive order is a mark of shame for this country. It's an absolute moral and ethical failure. It goes against everything we as New Yorkers stand for," Gillibrand told a jubilant crowd with the Statue of Liberty in the distance.
Gillibrand has become the subject of swirling rumors about whether she's angling to become a presidential contender in 2020. In late 2016, the Hill selected her as one of the top five potential 2020 Democratic contenders, behind Warren, Bernie Sanders (I-Vt.) and Cory Booker (D-N.J.). She has shrugged off such talk.
"The only race [Gillibrand] is interested in is her reelection to the Senate in 2018," a Gillibrand spokesman recently told the Washington Post.
But if she were to run for president one day, what's clear is that Gillibrand's political philosophy will be shaped by what she experienced at the Women's March and the subsequent grassroots response to Trump.
"Grassroots advocacy is more powerful than any senator or the president," Gillibrand said.
For that reason, Gillibrand hopes to see everyday people continue to fight back in the Trump era.
"We need this activism to right the ship," Gillibrand said. "We are going to need it for 2018, 2020 and into the future. Without it, the democracy that we have is going to be lost."