46% of Trump voters think there should be a White History Month, compared to 36% who don't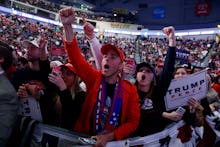 Nearly half of voters who supported Donald Trump in the presidential election think there should be a special month set aside to celebrate white history in the United States, according to a poll published Friday by Public Policy Polling.
Apparently dissatisfied with white people dominating nearly every aspect of American life and culture for the past 250 years, 46% of Trump voters now desire an official white history month. Only 36% of Trump voters oppose the idea.
In a cute bit of irony, only 47% of Trump voters are aware that legendary black abolitionist and former slave Frederick Douglass is dead — a fact that puts them in fitting company, considering their man in the White House seemed confused about that same fact last week.
"Frederick Douglass is an example of somebody who has done an amazing job that is being recognized more and more, I noticed," Trump said Feb. 1 during a Black History Month roundtable. Douglass has been dead for some 122 years.
Americans have commemorated Black History Month every February since 1976. Originally intended to celebrate black achievement in the face of centuries of degradation — including slavery, Jim Crow and a host of systemic oppressions too numerous to recount here — the holiday has grown contentious of late, as white Americans grow increasingly upset at not being the center of attention.
A study published in Perspectives on Psychological Science in 2011 sheds some light on this tension: Researchers found that white Americans often see racism as a zero-sum game, where decreased bias against blacks is associated with increased bias against whites. 
The difference lately is that Trump has emboldened those who believe this. He's fostered the idea that white Americans are a "forgotten" caste, and that political correctness, unfettered illegal immigration and inner-city (read: black) crime are roadblocks in their path toward "making America great again." 
Mix in some endorsements from the KKK and various white nationalists, and you have a platform tailor-made for enshrining white people at the center of American social life for years to come. A white history month would be a fitting addition — if every month wasn't functionally a white history month already.