How to use two filters on Snapchat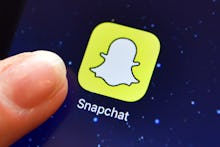 Snapchat filters are the best part of the app. From filters based on geography, to flower crown filters that make your skin look flawless — filters are a trademark feature of the social app.
First, the company introduced the option to add text and drawing to snaps, as well as the option to add time, speed and temperature filters. It followed that with location-based geofilters — now, individuals and businesses can purchase "on-demand geofilters" for events and specific locations. In September 2015, after acquiring Ukrainian startup Looksery, Snapchat introduced live animated effects through the Lenses feature. And toward the end of the year, the company rolled out slow-mo, fast forward and rewind filters.
If you've ever been tempted to use multiple filters (say, a selfie mask with a geofilter and a temperature filter), know there is a way.
How to use multiple filters on Snapchat
First, apply a filter of your choice. Then, use one finger to hold the screen and another to swipe to retrieve other filter options. This technique can overlap up to three filters and works for both video and photo snaps.
When using the Snapchat Lenses, take an image using the face and voice altering filter first. You can pull up these filters by pressing on the screen until the app recognizes a face and brings up filter choices. Then tap on the screen with one finger to add up to three filters on top of image. This method works for both video and photo snaps.