'NBA 2K' eLeague: 5 things you need to know about the new eSports league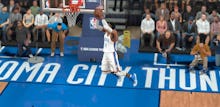 Early on Thursday morning, Take-Two Interactive and the National Basketball Association announced a new competitive gaming initiative and partnership.
NBA 2K eLeague is a new eSports league that will begin operation in 2018. The news has both the competitive gaming and sports worlds buzzing. Here are five key things you need to know about NBA 2K eLeague.
NBA 2K eLeague: It'll be played on NBA 2K18
Most fans of the NBA 2K series already have NBA 2K17. While it makes sense for those with aspirations of competing in this groundbreaking league to hone their 2K skills on the latest edition of the game, it's important to note, the competition doesn't begin until 2018.
There's almost no chance 2K Sports will want games to be contested on an older version. So we expect NBA 2K18 to be optimized for the competitive gaming platform that is being created.
NBA 2K eLeague: This is not a 1v1 competition
Many 2K fans prefer to play MyTEAM or Play Now Online where they control an entire team against another user who controls another squad. While that's a fun way to play, it's not the format for the NBA 2K eLeague.
"The founding teams, each composed of five professional eSports players who will play the game as user-created avatars, will be announced in the coming months," states the official press release.
Essentially, this equates to five MyPlayers — or 5v5 gameplay — which can be seen in 2K Pro-Am and MyPARK.
NBA 2K eLeague: The league is operated by the NBA
For the first time ever, an American sports league is operating an eSports league. That means real NBA franchises will run the teams.
The NBA's involvement in the project speaks to its faith in the future of eSports, and the strength of its partnership with Take-Two Interactive. The partnership also strengthens the chances of the business venture becoming a success. The NBA will undoubtedly have a vested interest, and therefore should provide as much commercial support and visibility as any other American eSports organization.
NBA 2K eLeague: Only expert players need to apply
Almost everyone who plays NBA 2K believes they're really good at the game. With just five spots (and potential alternates) available, membership in this organization is likely to be even more select than the real NBA.
If you're going to be in this league, you had better be more than just a neighborhood 2K giant. After all, it's a league that will be opened to players from around the world.
NBA 2K eLeague: This is a real job
This isn't a glorified exhibition of a hobby. This is going to be a real job for the players who are drafted and signed.
This means, there will be salaries, contracts, etc. All those parents who tell their kids gaming is a waste of time may have to reconsider their argument.
More sports gaming news and updates
Are you a sports gamer? Check out more content from Mic, including news on EA Sports' 2017 plans for titles like NBA Live 18 and EA Sports UFC 3. There's also details on RBI Baseball 17, and the latest patch notes on WWE 2K17's 1.06 update.