What is Congress doing today? Here are 5 ways to track what your lawmakers are up to.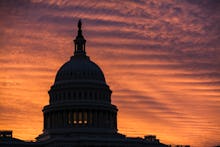 In the last couple of years, Congress hasn't been as productive as its constituencies may think. In 2014, both the House and Senate worked approximately 133 days, while an ordinary citizen totaled 240 working days. In 2016, Congress took a big summer break, from mid-July through early September. 
Things are shaping up to be different this year, with President Donald Trump calling it "the busiest Congress we've had in decades, maybe ever." With the round-the-clock hearings, committee meetings and House votes in the wake of Trump's inauguration, it may feel like a challenge to keep up with all of Capitol Hill's recent developments. 
Need help keeping up? Here is a list of platforms that offers daily updates on lawmakers' decision-making. 
GovTrack.us
GovTrack publishes the status of federal legislation, information about representative and senators, bill summaries and statistical analyses. It describes itself as a "completely independent entity which is wholly owned by its operator and receives no funding in any form from outside organizations."
The Madison Project 
Housed by the OpenGov Foundation, the Madison Project is a "government policy co-creation platform" that seeks to embolden citizen participation in official government documents from Congress.
Congress.gov 
This website hosts all legislative activities from both the House of Representatives and the Senate, including a schedule of hearings and bills under consideration. It has a search engine tool that helps users find their representative or senators. 
Countable 
Countable is an app that explains complex bills. It keeps track of how representatives vote on a particular issue and compares that information to the way you wanted them to vote. It also lets you send emails and video messages to your legislator. 
PopVox
PopVox is a free email service that keeps subscribers abreast of the goings on in the state and federal legislatures. Users can tailor subscriptions to keep them up to date on the issues and locations most important to them. PopVox maintains a comprehensive searchable database of bills and offers advocacy resources for those looking to get involved on a grassroots level.