Who is Luther Strange? Jeff Sessions' replacement in Senate isn't much of a departure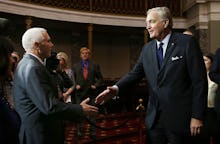 Alabama Gov. Robert Bentley on Thursday appointed Luther Strange to fill the Senate seat Jeff Sessions left open after he was confirmed as the U.S. attorney general.
Strange, who had served as Alabama's attorney general since 2011, will replace Sessions until a special election is held in 2018 — and like Sessions, Strange is deeply conservative. 
"I am greatly honored and humbled to accept the appointment to Alabama's Senate seat vacated by Sen. Jeff Sessions," Strange said in a statement. "I pledge to the people of Alabama to continue the same level of leadership as Jeff Sessions in consistently fighting to protect and advance the conservative values we all care about."
Here's what to know about "Big Luther," the newest U.S. senator.
A "strong conservative"
As the Alabama attorney general, Strange frequently joined lawsuits against the Obama administration, according to the Washington Post. He has fought against transgender bathroom rights and refugee resettlement, and opposes the Affordable Care Act and climate change regulations. Strange has also battled against a mandate that employer health care plans cover workers' birth control, arguing it constitutes a violation of their religious faith. 
That all suggests he won't be much different than his predecessor, who has been one of the most conservative senators since taking office in 1997.
"His leadership on a national level, service as a statewide elected official and long record of taking on tough federal issues are the very qualities that will make him a strong conservative senator for Alabama," Alabama Gov. Robert Bentley said in a statement.
Ties to Republican establishment
Nicknamed "Big Luther" because of his large frame — at 6 feet, 9 inches tall, he has replaced Alan Simpson as the tallest senator in modern history — Strange is a "winner" who has the potential to hold the seat "for the next 25 years," Alabama Republican strategist Brent Buchanan told the Wall Street Journal.
Strange played a key role in negotiating a historic settlement in the BP Deepwater Horizon Spill, and fits the textbook definition of a traditional Alabama politician, according to the Washington Post.
He is also an ex-energy lobbyist with deep ties to the Republican establishment, which welcomed his appointment.
"He's going to be a mainstream conservative Republican," party strategist Karl Rove told the New York Times. "He's very smart, really hard-working.
A "strange" appointment?
Bentley's decision to appoint Strange to the Senate seat has raised some eyebrows because Strange, as Alabama attorney general, may have been investigating the governor for impropriety.
In June, the Alabama House of Representatives introduced articles of impeachment against Bentley, whom they accused of using state funds to cover up an alleged affair that led to his divorce.
Though Strange did not confirm or deny that his office is investigating the governor, he wrote a letter in November requesting that the House Judiciary Committee "cease active interviews and investigation until I am able to report to you that the necessary related work of my office has been completed."
Alabama Rep. Ed Henry, the Republican who first moved to impeach Bentley, said the timing "looks like collusion."
Bentley will also get to appoint Strange's successor as the state's attorney general.
Conservative blogger Erick Erickson wrote on Wednesday that "the whole matter looks even more unseemly" and that Strange's appointment would give ammunition to critics on the left.
"Luther Strange is probably caught innocently in the middle, but perception is a powerful thing," Erickson wrote. "Getting the legislature to suspend an impeachment against the governor, then having the governor appoint him as United States senator, sure smells of quid pro quo."