Katy Perry shows up to the 2017 Grammy Awards in glitter, feathers and unkempt blond hair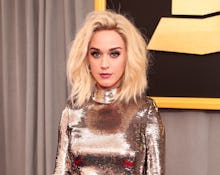 Well, this is one way to make sure people notice you. 
To the 2017 Grammy Awards, Katy Perry showed up in a long, slinky sparkly dress designed by Tom Ford, making her look akin to a disco ball, with a long column of feathers at the end. 
She paired the dress with her new blond 'do, which unfortunately looked pretty unkempt, according to Twitter.
And about that dress ... well ... 
In contrast to her past looks, it's actually pretty tame. To the 2012 and 2015 Grammy Awards, she matched her sparkly dresses with her hair color. 
In 2014, she showed up covered in a bunch of musical notes. 
And in 2013, she wore whatever this is. 
So clearly, this is Perry taking a step back and changing up her look. With the singer set to perform during Sunday night's show, it'll be interesting to see if she changes into a more shocking look.