'The Walking Dead': How to watch season 7, episode 9 online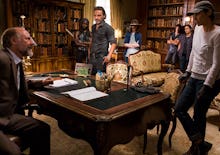 The Walking Dead has been touting a more uplifting second half of season seven, with a "Rise Up" marketing campaign that signals the group will finally resist Negan and the Saviors. In fact, for fans who were really upset with the overall tone of season seven, AMC has assured viewers the series will return to the show "people know and love." 
Considering The Walking Dead's declining ratings are finally giving the series some vulnerability, they'll need to keep their word. What better time to start than the midseason premiere this Sunday? 
The midseason premiere, "Rock in the Road," should kick off where season seven left off, with Rick and key members of the group reuniting with Daryl, Sasha and Maggie at the Hilltop. As the synopsis for episode nine intimates, they'll try to rally support for their anti-Negan cause, likely from the Kingdom. Per AMC: 
Rick and the group are led to a new community where they are introduced to its inhabitants and ruler. A familiar face resurfaces.
So for fans excited for the series' return — but aren't blessed with a television come Sunday — how can you watch the episode online? 
There's limited options for fans who don't have a cable subscription. Netflix does house the first six seasons of The Walking Dead, but season seven won't be available until later in the year once the whole season has aired. Sadly, while Hulu has a next-day streaming partnership with AMC, it doesn't include The Walking Dead because the series premiered before the deal was set in place. A non-cable user's best bet to watch the new episode ASAP is to purchase them individually the day after the episode airs on iTunes, Amazon or Google Play. 
For those with a cable subscription, it's a bit easier. AMC will have the new episode available to stream on its website the following day — just log in with your cable provider and you're all set. 
So here's hoping The Walking Dead returns to form come Sunday, where we'll hopefully get solutions to unanswered questions like the identity of the person with the mysterious boots and whether Rick Grimes will ever smile again.  
The Walking Dead season seven returns Sunday at 9 p.m. Eastern on AMC. Check out a sneak peak of "Rock in the Road" below. 
Mic has ongoing coverage of The Walking Dead. You can follow our main Walking Dead hub here.