Protesters shame, block entrance for Education Secretary Betsy DeVos during school visit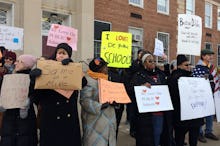 Protesters blocked newly-confirmed education secretary Betsy DeVos from entering a Washington, D.C. school she had been scheduled to visit on Friday, shouting "Shame!" at her as she made a hasty retreat to her car.
In a video from the scene tweeted out by ABC News, protesters can be seen brandishing signs as they form a blockade around the entrance to Jefferson Middle School.
"She doesn't represent anything that they stand for," one demonstrator is heard saying.
"Shame. Shame. Shame," chants another.
DeVos, a wealthy Republic donor, earned viral status for comments made during her confirmation hearing about allowing guns in schools to prevent grizzly bear attacks and shuffling public school funding to private schools. Despite the controversy, DeVos was confirmed Tuesday after Vice President Mike Pence stepped in to break a locked up Senate vote.
Police told ABC News that although the protesters continued to harangue DeVos after she returned to her car, she was eventually able to enter the building.
Shortly after the incident occurred, Arne Duncan, who was the U.S. Secretary of Education under former president Barack Obama, tweeted out a plea for Americans to accept DeVos, regardless of whether they agree with her politics.
"Agree or disagree w @BetsyDeVos on any issue, but let's all agree she really needs to be in public schools," he wrote. "Please let her in."