Beyoncé's 2017 Grammys performance was a graceful ode to black motherhood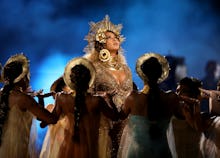 With a sweet introduction from her proud mother, Tina Knowles, Beyoncé — sparkling in a yellow glittery gown and headdress — flowed gracefully onto the Grammy stage Sunday night, singing a medley of songs from Lemonade as an ode to black motherhood. Watch a clip below: 
Bey's ethereal live rendition of "Love Drought" and "Sandcastles" — her laid-back cuts from the latter part of Lemonade — was brought to life with the assistance of black women dancers and a screen that showed beautiful shifting images of herself, her daughter Blue Ivy Carter and her mother Tina.
During the set, Bey stopped the world once again, as she elevated to the top of a table and walked slowly to the opposite end where she sat down on a chair that leaned back and remained in place as she belted out powerful soothing notes. 
"If we're going to heal, let it be glorious," Bey said before ending her set. If Bey was leading by example, this performance is exactly what glorious healing looks like. 
This is Bey's first time hitting the Grammy stage as a performer since 2015, when she sang a rendition of the gospel standard "Take My Hand, Precious Lord." This year, she was nominated for nine awards, including album of the year for her fifth studio album Lemonade and record of the year for her hit song "Formation." 
Many were curious about what her performance would entail leading up to tonight, after she announced she was pregnant with twins in early February.
Mic has ongoing coverage of the 59th annual Grammy Awards. Please follow our main Grammy Awards hub here.