'Zelda: Breath of the Wild' Spoilers: Screenshots reveal a returning character and more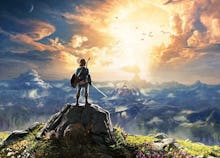 The Legend of Zelda: Breath of the Wild release date of March 3 is less than a month away — as is Nintendo's brand new console. In the meantime, Nintendo is doing everything it can to build Zelda hype, even if it means spilling some BotW spoilers along the way. The latest details come in the form of some beautiful new screenshots from the game, courtesy of Game Informer.
Let's take a closer look at some of the new Zelda: Breath of the Wild screenshots. They might just reveal some new details about the game.
Legend of Zelda: Breath of the Wild spoilers: Check out these amazing screenshots
The newest Zelda: Breath of the Wild visuals don't offer up too much information that we didn't already know. The pictures confirm players will be able to cycle through breeds of horses — instead of gaining access to only one — and that Link can wield multiple types of items. However, some new details do emerge from these photos as well.
We finally get a clear shot of Link in a snow-filled environment. While gameplay videos in the past have hinted at different climates, we've mostly just seen our hero in a green field, either on a sunny day or during rainfall. After seeing Link making his way through a snowy setting we can't help wonder what other climates might be included in Zelda: Breath of the Wild.
These screenshots also show Link in his traditional green tunic, instead of the blue outfit we've seen in previous Zelda: Breath of the Wild imagery. Also, what the heck is that thing staring Link down? We seriously hope you don't have to fight it.
Finally, we also see a familiar Hyrule face: Beedle! The recurring shopkeeper previously appeared in Wind Waker, Skyward Sword, Minish Cap and more. So it looks like Zelda: Breath of the Wild won't be breaking with popular tropes from previous games.
Check out more Zelda: Breath of the Wild spoiler-ific images on Game Informer's site, and stay tuned for more news and rumors as we impatiently count down the days until March 3.
Check out more Zelda news and coverage
Hungry for more Zelda news? Check out more spoilers on the game, our deep dive into the Legend of Zelda timelines or our breakdown of the differences between Breath of the Wild on Wii U or Nintendo Switch. You can also read up on the special Master Edition of the game and find out why it may take longer to launch in Europe.