What happened in the 'Girls' season 5 finale? Hannah gets her sh*t together.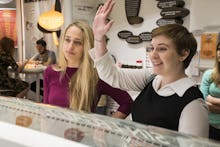 The sixth and final season of Girls is almost upon us. On Sunday at 10 p.m. Eastern, HBO will air the last season premiere of the comedy series created by Lena Dunham. But before we usher in this final chapter and begin to say goodbye to Hannah, Marnie, Jessa and Shoshana, here's a reminder of how last year's brilliant fifth season concluded.
Season 5 recap 
HBO aired the last two episodes of Girls season five — "Love Stories" and "I Love You Baby" — back to back, and both episodes provided a step forward (or at least a step in some direction) for the four central characters. 
Hannah not only ends her dead-end relationship with Fran but also realizes that she's not cut out to be a teacher. This epiphany comes from spending the day with her nemesis, Tally. In season one, Tally was introduced as a foil to Hannah: Tally was the successful writer she always wanted to be. In "Love Stories," Tally serves a different purpose. One, to let Hannah know that her life isn't all that great, even if she does have notoriety, and two, to remind Hannah that she is a writer. Hannah forget this somewhere between dropping out of the Iowa's Writers Workshop and picking up a teaching gig.
Meanwhile, Marnie tries to keep things professional with Desi after deciding to get a divorce; Shoshana's post-Japan travel depression comes to an end when she decides to help Ray promote his coffee shop; and Jessa and Adam pursue a relationship, despite knowing that it will always be marked by Hannah and how they both betrayed her. 
Ultimately, the season concludes with Hannah getting her life somewhat more together. She starts running, sends a gift basket to Adam and Jessa and gets back to her roots by performing an empowering story at a slam competition. Marnie has Ray, her first seemingly stable boyfriend; Shoshana truly sees how great of a marketer she is; and Adam and Jessa, despite their problems, know they have passion on their side. 
What does this all means for season six? We shall see.