Michigan State University suspends 3 football players amid sexual assault investigation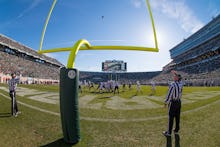 Campus officials at Michigan State University have suspended three unnamed football players and one staff member "associated with the football program" in response to sexual assault allegations filed in January. 
According to a statement released from MSU spokesman Jason Cody on Thursday, the student-athletes will be barred from team activities and removed from campus housing until both Title IX and police investigations are completed. 
The Associated Press reported on Friday that detectives will conduct interviews with coaching staff and other "relevant individuals," after which point they'll submit their findings to the Ingham County prosecutor's office. 
The university has also retained an external law firm to look into whether the football staff complied with campus policies as they pertain to the January assault allegations. 
"MSU will take prompt action, if appropriate, in response to any policy violations or other substantive matters as a result of the investigation," Cody noted in the statement. "Sexual violence is abhorrent, and no member of our community should be threatened in this way."
These investigations arrive amid revelations into a major 2016 investigation on MSU's campus, involving allegations that Spartan marching band director John T. Madden sexually harassed a female student.
According to student newspaper the State News, Madden sent the student multiple inappropriate text messages, including one reading, "Pics of your dress are required ... Discreetly of course." 
After MSU's Office of Institutional Equity determined Madden violated its Relationship Violence & Sexual Misconduct policy, the school banned him from campus and delayed his promotion to full-time professor.
The student, however, never returned to campus and opted to finish her undergraduate degree online.
In light of the most recent allegations rocking the East Lansing campus, officials are hoping to shed light on whether its policies are working — and whether campus staff themselves are honoring them.
"The core values of MSU athletics are clear, consistently communicated and non-negotiable," athletic director Mark Hollis wrote in the same press release featuring Cody's comments. 
"Sexual assault is unacceptable, and members of MSU athletics who fail to uphold our standards for creating a culture that is safe, supportive and responsive to those affected by it will be held accountable."