Prince's music is finally coming to Spotify, Pandora — but why has it taken so long?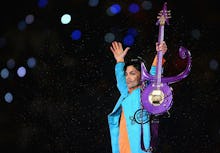 It's been nearly a year since Prince's untimely, impossible death. It's been a year of mourning, a year when the desire to escape back into his purple, gender fluid fantasy world has been stronger than just about any year in history — except maybe 1984. And yet only a chosen few have been able to actually listen to his music online.
For the past few years, the only online outlet where fans could stream Prince's music was Tidal — not YouTube, not Pandora. However, all that is about to change. Sunday, the same day as the 2017 Grammys, Prince's early Warner Bros. catalog — spanning the years 1979 through 1996 — will be available to anyone on Spotify, Apple Music, Pandora, Apple Music and iHeartRadio, Billboard confirmed Friday.
But before you start arranging your playlists, it's worth asking: Why has it taken so long? As it turns out, Prince himself despised music-streaming. This new reality might not be the best way to honor his memory.
Interestingly, Prince was one of the first to pioneer digital music. His 1998 Crystal Ball triple album was initially only available through phone and internet preorder. He used his NPG Music Club, founded in 2001, to sell select albums exclusively online, eventually earning him a Webby Lifetime Achievement Award in 2006 for being a digital pioneer. 
Fast forward to 2010: "The internet's completely over," Prince told the Daily Mirror. "I don't see why I should give my new music to iTunes or anyone else." He spent tremendous energy and effort fighting to keep his music off YouTube, Spotify and other services. However, he saw Tidal as an exception.
"Technology is getting all of humanity to the point where we're gonna be able to dial up our own experience here," he once said, explaining how he approved of the service's customizability and artist focus. "So I may have a version of it, and Jay Z may have a version of it, and Kendrick Lamar may have a version of it. There isn't gonna be one size fits all."
Of course, following Prince's death, Tidal got locked into a battle with Prince's estate for copyright infringement, allegedly streaming his music without permission. That case is still pending as of Feb. 1, according to Billboard.
Prince was notorious for the level of control and detail he held over his music, and his streaming choices were an aspect of that. However, he's no longer in charge of those decisions; his estate is. 
The flood of ears following his coming Grammys tribute and the new ease of access will likely cause his music to surge back on the charts once again, as it did after his death. But this time it will be more clearly the product of an urge to celebrate Prince's music rather than Prince himself.