Donald Trump's latest lie about vote fraud questions a sitting senator's legitimacy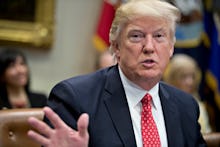 President Donald Trump is now questioning the legitimacy of a sitting senator's election victory, according to a report from Politico. 
It's well known that the president of the United States is convinced that he lost the popular vote in November because 3 million people voted illegally — though they didn't. But now it appears that, for the first time, he is explicitly calling into question the legitimate election of a current member of Congress.
The Politico report focuses on a recent meeting between Trump and ten senators about his nomination of Neil Gorsuch to the Supreme Court. The meeting was attended by former Republican New Hampshire Sen. Kelly Ayotte, who now works for Trump as a congressional liaison. 
According to the Politico report, Trump not only chalked up his loss in New Hampshire to vote fraud, but also Ayotte's loss of her incumbent seat to then-Gov. Maggie Hassan, a Democrat:
The president claimed that he and Ayotte both would have been victorious in the Granite State if not for the "thousands" of people who were "brought in on buses" from neighboring Massachusetts to "illegally" vote in New Hampshire.According to one participant who described the meeting, "an uncomfortable silence" momentarily overtook the room.
Trump appears to have been referring to a debunked claim by then-New Hampshire gubernatorial candidate Chris Sununu, who alleged days before the 2016 vote voters were routinely bussed into the Granite State from nearby Massachusetts to swing the outcome of close elections. Hassan beat Ayotte by less than 1,000 votes.  
Less than a month after his election victory, Trump tweeted that there had been "Serious voter fraud in Virginia, New Hampshire and California" — but stopped short of questioning the outcomes of any of the congressional elections in those states.
Mic reached out to Hassan's office but did not receive an immediate response. 
Trump recently tapped Vice President Mike Pence to lead an investigation into voter fraud in the 2016 election. Senate Majority leader Mitch McConnell (R-Ky.) said that he does not want federal funds going to that investigation and said it should be left up to state authorities.
That would mean that the decision about whether to investigate or not Hassan's election would fall to the governor of New Hampshire. That office is currently held by Chris Sununu, the likely origin of Trump's voter fraud conspiracy.