11 most memorable songs from '90s movie soundtracks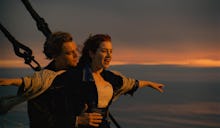 Say what you will about the '90s, but one of the decade's greatest delights was the movies that came out of it. Often times, however, the movies' soundtracks were even more memorable than the movies themselves. From Celine Dion's earth-shattering "My Heart Will Go On" in Titanic to Radiohead's moody "Exit Music (For a Film)" in Baz Luhrmann's stylish Romeo + Juliet, below you'll find memorable songs from the some of the '90s greatest films.
"Tomorrow Never Knows," The Craft
One of the greatest joys of the cult classic teen witch film is its soundtrack, particularly its reworking of one of the greatest Beatles songs, "Tomorrow Never Knows." Covered by Our Lady Peace, the song is transformed from a psychedelic anthem to an angstier, rockier ballad, one that is apt for a film about four young witches.
"Sweet Emotion," Dazed and Confused
It may be unexpected to think of an Aerosmith song as a movie-maker, but Richard Linklater's 1993 high school classic benefits hugely from "Sweet Emotion," the opening number that truly sets the tone of the film. Linklater was apparently unable to secure the rights to Led Zeppelin's music (even though the movie's title borrows from one of the band's most well known songs), but "Sweet Emotion" perfectly embodies what the film is: a warm throwback to youthful stupidity. 
"Penetration," The Doom Generation
Gregg Araki's The Doom Generation, released in 1995, is a lot like Badlands, if Badlands was a more hardcore film about narcissistic teenager drifters and not so poetic and deeply sad. Araki's film, on the other hand, has a "we're doomed" quality to it, and the more we learn about Amy and Jordan — a couple who picks up the mysterious Xavier on the street — the more we see them to be superficial and violent young adults with a pretty nihilistic view of the world. It's why "Penetration," the Jesus and Mary Chain song, so perfectly captures the film's energy: vulgar and somewhat frightening with loud, manic energy. 
"Miss Misery," Good Will Hunting 
Good Will Hunting, the 1997 film about a Boston janitor who ends up being a math genius is a pretty moving film through and through, but it's final scene, which features Elliot Smith's pensive and deeply melancholic "Miss Misery," will probably hit the hardest. Matt Damon's Will decides to go find Skylar, and the film closes with him driving off to California and Smith's soothing vocals in the backdrop. 
"I'm Deranged," Lost Highway
David Bowie acted in David Lynch's Fire Walk With Me so it makes sense that the director would want to eventually use Bowie's music for one of his films. In Lost Highway, Lynch opens his film with the Bowie song "I'm Deranged," a disorienting and synth-heavy track that's the perfect introduction for any Lynch film. Like a Lynch film, the track is eerie, enticing and a fitting opener for the surreal noir about a man whose life drastically changes after he's accused of killing his wife.
"Driving Sideways," Magnolia
When we think of visual adaptations — movies and television shows — we rarely think of the original source material being music. Well, that's actually the case for Paul Thomas Anderson's layered 1999 drama Magnolia. In the liner notes for the film's soundtrack, Anderson said, "I sat down to write an adaptation of Aimee Mann songs. Like one would adapt a book for the screen, I had the concept of adapting Aimee's songs into a screenplay." 
While Mann's music colors most of the film, "Driving Sideways" encapsulates the film — about several people in different walks of life — best.
"When You Believe," The Prince of Egypt
There are few songs as meditative and optimistic as "When You Believe." Featured in The Prince of Egypt, the 1998 animated children's film that is essentially a retelling of the book of Exodus, the song features two legends: Mariah Carey and Whitney Houston. The song conveys suffering but it's also a hopeful ballad that serves to instill faith within those in pain. "When You Believe" went on to win the best original song award at the 1999 Oscars. 
"Exit Music (For a Film)," Romeo + Juliet
Whatever you may think about Baz Luhrmann's contemporary adaptation of William Shakespeare's Romeo + Juliet, it would be difficult to argue that the film doesn't succeed in being its own unique, modern project. The music all feels modern, particularly Radiohead's broody "Exit Music (For a Film)." Written for the film, the song is a moody one, a tune that complements the fate of the two doomed teenagers. Luhrmann's film, above all, reminds us of this fact; that Romeo and Juliet are just kinds. Thom Yorke's aching vocals serve to highlight the tumultuous time in our lives, all the worse for the star-crossed lovers. 
"My Heart Will Go On," Titanic
It's difficult to imagine Titanic — James Cameron's epic film that adds a doomed fictional romance to the tale about the infamous shipwreck — without it's performances, set design and Celine Dion. For the film, the French-Canadian icon gave us "My Heart Will Go On," a ballad as epic as the film itself. It's hard to imagine the tragedy feeling as poignant, the loss as unbearable, if it were not for Dion's Oscar-winning song.
"2HB," Velvet Goldmine
There are several songs from Velvet Goldmine, the 1998 ode to glam rock, that could make this list. But "2HB" is perhaps the most interesting choice considering that first, it's a cover of a Roxy Music song and second, the cover is performed by The Venus in Furs, an invented band that's solely featured on the soundtrack for the film. Lastly, the frontman of this fictional band is Radiohead's Thom Yorke. Yorke's voice is unrecognizable in the song, and Haynes' and company's clever idea to invent a band that pays tribute to Bowie and his peers, is impossible to ignore. 
"I Want You to Want Me," 10 Things I Hate About You
Evidently, adaptations of Shakespeare plays set in modern times with pretty incredible soundtracks were in fashion in the '90s. In addition to Baz Luhrmann's Romeo + Juliet, we were gifted with 10 Things I Hate About You, a loose adaptation of Taming of the Shrew. While the soundtrack is all around great, particularly for a movie about high school romance, alternative rock band Letters to Cleo gives us a punk version of Cheap Trick's classic "I Want You to Want Me" that fits right in with the film's moody teenagers and their, well, wants.
Mic has ongoing music coverage. Please follow our main music hub here.