ICE detains 160 immigrants in Southern California raids spanning five days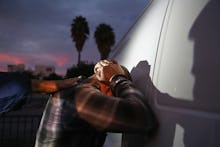 U.S. Immigration and Customs Enforcement officials reportedly confirmed Friday that they had detained some 160 immigrants during a series of raids in Southern California.
According to Fusion, the raids had been a five-day operation, beginning on Monday and ending at noon on Friday, as officials arrested immigrants in 55 communities across six counties.
Officials identified those targeted as "at-large criminal aliens, illegal re-entrants and immigration fugitives."
While Department of Homeland Security spokesperson Gillian Christensen called this week's operation "routine," according to the Washington Post, President Donald Trump's repeated promises to "build a wall" and round up 11 million undocumented immigrants in the U.S. gives Friday's news a chilling effect.
The Post reported the raids "mark the first large-scale episode of immigration enforcement" in the U.S. since Trump's January executive order calling for increased staffing of immigration forces carrying out deportations.
On Wednesday, protesters in Phoenix rallied in front of an immigration office where ICE officials had detained 35-year-old Guadalupe García de Rayos, a mother of two American citizens. CNN reported that as of Thursday afternoon, she'd been sent back to Mexico, her homeland. 
But Southern California continues to be a major part of efforts to curb illegal immigration in Trump's plans. According to Reuters, an internal report from Homeland Security suggests the first segment of Trump's border wall be built near San Diego, as well as parts of Texas.
"Big cities tend to have a lot of illegal immigrants," an immigration official told the Post under the condition of anonymity. "They're going to a target-rich environment."