Planned Parenthood protests in New York draw massive crowds in support of women's rights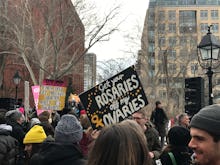 NEW YORK CITY — Across the country on Saturday, Planned Parenthood health centers saw coordinated protests staged by abortion opponents. But in New York City, the counterprotesters got up earlier, beating the anti-abortion faction at their own game. 
By 9 a.m., an hour before the "Protest PP" rally was scheduled to begin, substantial crowds of Planned Parenthood advocates had assembled across from the Margaret Sanger Center in downtown Manhattan, staking out the prime real estate usually occupied by anti-abortion factions. They dwarfed the handful of the Protest PP demonstrators, who, by 11 a.m., numbered perhaps two dozen.
According to Treasa Dalton, vice president of Pro-Life Future NYC and a co-organizer of Saturday's protest at the Margaret Sanger Center, the "protest PP nationwide initiative" was a grassroots effort. Dalton and Pro-Life Future NYC president Anna Fata signed on to plan the New York protest last week, she said, as a means of holding elected officials to their promises.
"Over the last year, we've seen several representatives promise that they would defund Planned Parenthood," Dalton said. "So what we're doing now is standing together as a pro-life movement across the nation to let these representatives know that we're still here, we want Planned Parenthood to be defunded, we want those tax dollars to be redirected to other federally qualified health centers that provide a broader range of women's health care services."
Dalton cited a shaky figure House Speaker Paul Ryan introduced in January, claiming the federal community health centers to which Ryan wants to reroute funds outnumber Planned Parenthood centers 20-to-1. 
Unfortunately, those numbers don't tell the whole story. Federally qualified health centers don't provide the same type of services Planned Parenthood does and they don't guarantee negotiable payments for people who can't afford care, nor could they necessarily accommodate overflow from the organization's closure. 
Yet even if protesters gathered in Manhattan were small in number, they were loud on one point: Taxpayers should not be subsidizing abortions, especially considering this alleged abundance of alternative health care providers. 
"Every abortion clinic ultimately takes children's lives," demonstrator Sean Deming said. "At the moment, Planned Parenthood is the biggest group doing that, responsible for about half of all pre-born children's deaths in America."
When reminded that abortion comprises only a very small portion — roughly 3% — of the services Planned Parenthood provides and that federal dollars don't fund abortion anyway, protesters' answers were the same.
"I think your information is completely incorrect," Deming said. "If you look at their money, it's about abortion and only abortion."
Valerie, a New Yorker who asked to be identified by her first name only, agreed. "I'm here because I feel this is coming to a head and I really want, first of all, not to be forced with my money to support, in any way, something I find as evil as abortion," she said.
"I actually don't believe a lot of what they [Planned Parenthood] say because I know most people go for abortion," she said, calling Planned Parenthood a "butcher."
Across the street, counterprotesters adamantly disagreed. Shouting slogans like, "A baby's not a baby 'til it comes out, that's what birthdays are all about," they cited the wide range of services Planned Parenthood offers, and many spoke from personal experience.  
Seble Maza, who visited Planned Parenthood when she was 16, said the care she received there changed her life. Maza still brings her daughter there to get birth control, she said, and Maza demonstrated Saturday "for a woman's right to choose." 
"No one should tell me what to do with my body except for me," she said. "If you choose not to have an abortion, that's your right."
While Planned Parenthood locations nationwide are always popular gathering sites for anti-abortion protesters, the Margaret Sanger Center does not typically play host to such concentrated groups of them. Going into the day, clinic employees were not entirely sure what to expect. A spokesperson for Planned Parenthood New York cited a 2015 protest at the Margaret Sanger Center attended by roughly 200 people. No one with who Mic spoke could give an exact number of attendees at Saturday's event, but the block packed with marchers supporting Planned Parenthood suggested that figure wasn't too far off.
In the days leading up to the demonstration, Planned Parenthood urged supporters to find other ways to show their support, specifically methods that would not interfere with their ability to serve patients. In a phone interview Friday, Christina Chang, vice president of public affairs at Planned Parenthood of New York City, emphasized the organization's gratitude to counterprotesters for their support. However, she said, "we really prefer that you don't rally outside of our health centers because it becomes really disruptive."
"We want to center our patients and their experience and make them feel as safe and as comfortable as possible being here," Chang said. "Our patients are not coming to our centers to make political statements."
They're coming for health care — to get testing for sexually transmitted infections, to get cancer screenings and pap smears, to get birth control. And yes, sometimes to get abortions. 
Naomi, a 28-year-old living in Brooklyn who asked to be identified by her first name only, is one such patient. She came out Saturday in support of Planned Parenthood. She had an abortion at the Margaret Sanger Center four years ago, in the summer. Naomi found out she was pregnant after missing her period, when she was roughly three weeks along. At the time, she was 24 and in a long-term relationship with her now-husband. 
"I immediately knew that I wanted an abortion," she said by phone Friday evening. "It was very obvious that this was the right thing to do, and in retrospect, only even more so."
For Naomi and her partner, the timing was wrong. Yes, she has a steady job with insurance and was in a long-term relationship. But however stable, her relationship wasn't ready to withstand an unplanned pregnancy — and neither was she. So Naomi called Planned Parenthood and scheduled an appointment for the following week. She said she was impressed by the high level of professionalism, efficiency, kindness and respect baked into the care she received. No one made her feel stigmatized. Planned Parenthood made a hard situation more manageable.
"The whole experience made me feel so... really just grateful and lucky," Naomi said. Which is why, she said, it bothers her that politicians are trying to legislate it away, pushing laws that restrict women's right to safe and legal abortion by building more hurdles into the process. Making patients wait days between appointments. Making them drive to another state. Piling new layers of stress onto what is, for many women, an unimaginably fraught emotional event. 
"When I figured out I was pregnant, and then taking the pregnancy tests, it was upsetting," Naomi said. "It was not what I wanted and I felt out of control of my body and just, you know, it was unpleasant. I can imagine, living somewhere where you have to go through this waiting period, it's just like psychological torture. It sucks."
And so Naomi, who is now an activist with the 1-in-3 campaign — a grassroots effort that aims to end the stigma surrounding abortion — decided to attend Saturday's Stand With Planned Parenthood rally in New York's Washington Square Park, where activists, celebrities, artists and advocates gathered to promote reproductive freedoms. One Planned Parenthood official estimated the crowd numbers reached into the thousands. 
Speakers included model, activist and Planned Parenthood patient Kate Bowman; artists Aya Aziz and Kashish; transgender activist Sharron Cooks; Daily Show co-creator and co-founder of the Lady Parts Justice League Lizz Winstead; and Vagina Monologues creator Eve Ensler.
"We have a predator in chief in the White House," Ensler said, launching into a nearly seven-minute speech that electrified the crowd. "These predators despise women."
"They have licensed a rape culture where sexual violence, objectification of women's bodies is rapidly becoming normalized again," Ensler said, expressing her personal thanks for the services Planned Parenthood had provided her, personally — services that included abortion.
"They are the bedrock of health in this country for women and they are the symbol of our liberation," Ensler said of Planned Parenthood. "These predators have a vision, and believe me, it's dark. And don't say things like 'They don't mean it,' or 'It couldn't get that bad.' Because it is going to get that bad if we don't get our brave on."
For the Planned Parenthood supporters gathered in Washington Square Park, Saturday was about getting brave, and about promoting the same intersectional message activists and opponents of President Donald Trump's administration have espoused in nationwide protests since his election and inauguration. It represented too the potential power of grassroots organizing. Like the Women's March on Washington, Saturday's rally was the product of women working with women they didn't know to bring together thousands of people.
"It's so beautiful because people need to know — they need to see and feel the energy, right," Marcella Tillett, vice president of Planned Parenthood's Project Street Beat, said in a post-rally interview. 
"You know that people are supporting you, you know that there are plenty of Americans and plenty of people in this country who don't support the Muslim ban, who don't support shutting down Planned Parenthood," Tillett said, "but you need to be in the midst of it and you need to know that you are in a community of people who are really energized about fighting back to feel that internally. Rallies like this do that." 
Feb. 14, 2017, 10:58 a.m.: This article has been updated.