ICE Raids: Everything we know so far about immigration arrests sweeping 6 states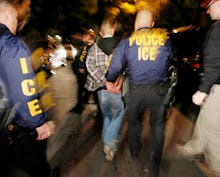 On Friday, U.S. Immigration and Customs Enforcement officials confirmed that they had arrested about 160 immigrants in a five-day spate of raids in Southern California. 
The large-scale operation, Department of Homeland Security spokesperson Gillian Christensen told the Washington Post, was "routine" — raids large and small had been a part of ICE's enforcement protocol long before President Donald Trump. 
It was just in May when ICE, under then-President Barack Obama, had planned a month-long series of raids targeting mothers and children from Central America who were living in the United States without documentation.
But the latest deluge of immigration arrests was hardly limited to Southern California. According to the Post, ICE officials carried out raids, traffic stops and checkpoints in at least six states — including Texas, Virginia, North Carolina, New York and Kansas — on Thursday and Friday.
Daily Beast reporter Betsy Woodruff said that a Los Angeles-based ICE official relayed on a conference call that the raids marked an "enforcement surge," but continued to emphasize that they were not atypical.
Still, the unnamed immigration official seemed to suggest that there was at least something deliberate and calculated about the "surge," saying of operations in Los Angeles, New York and Chicago, "The fact that they coincided is not entirely a coincidence."
It's difficult not to attribute this week's raids to the president, considering the executive order he signed in January, which included calls for increased staffing of immigration officers carrying out deportations.
This executive action followed Trump's November promise to deport 2 to 3 million undocumented immigrants while in office. 
"What we are going to do is get the people that are criminal and have criminal records, gang members, drug dealers," Trump told Lesley Stahl on 60 Minutes, according to Politifact. "We have a lot of these people, probably 2 million, it could be even 3 million, we are getting them out of our country or we're going to incarcerate."
For many, this latest surge of raids speaks to the vision Trump sees for America.
Austin City Councilman Gregorio Casar wrote in a Facebook post on Friday, "ICE is out in public arresting people in order to retaliate against our community for standing up for our values against people like ... Trump."
He continued, "ICE actions like these are beyond reprehensible. They instill fear in the community, and they make everyday people fear for their lives."
MyStatesman.com estimates 44 ICE arrests took place between Thursday and Friday.
As a result, protests have already erupted in Texas, New York and Los Angeles in response to what advocates and demonstrators agree is no "routine" ICE operation.
In Austin, more than two dozen protesters gathered outside a government building after a woman called a local immigration advocacy group about her husband, who she said ICE officers detained on Friday.
"What do I do now?" Reyna Alvarado told MyStatesman.com through a translator. "I had to go to school and tell my daughter that they've taken her father away."
Meanwhile in New York City, protests began around 6 p.m. local time on Friday in Manhattan's Federal Plaza. New Yorkers have at least two more demonstrations planned on Saturday and Sunday specifically in protest of Trump's immigration policies.
In Downtown Los Angeles, protesters disrupted traffic when they blocked a road, holding hands and chanting, "No hate, no fear, immigrants are welcome here."
According to local outlet KTLA, while immigration advocates estimate around 100 people were detained in ICE raids, ICE officials say the number is "grossly exaggerated." 
Joseph Villa, the director of policy at the Coalition for Humane Immigrant Rights of Los Angeles, however, said the organization has received "hundreds" of calls from attorneys who've told them their clients have been picked up by immigration officials.
He said ICE will not release the names of those arrested.
"For us, it is not an ordinary day," he told KTLA.