Report: Russia is considering handing Edward Snowden over to Trump to "curry favor"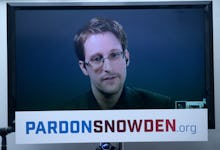 Russia is considering handing the American whistleblower Edward Snowden over to the U.S. government in a bid to "curry favor" with President Donald Trump, according to a thinly sourced report from NBC News. The report is based on the comments to the broadcast network by "a senior U.S. official who has analyzed a series of highly sensitive intelligence reports" dealing with Russia's deliberations on the subject. A second intelligence official, NBC News said on its nightly broadcast, confirmed the account.
After the NBC report emerged, Snowden responded with a series of tweets and retweets. In one, he retweeted a video from Katie Couric of a December 2016 interview in which Snowden discusses the possibility of Russia handing him over to Trump's administration. "I'm actually kind of encouraged," Snowden said, positing that, if the Kremlin handed him over, it would be a refutation of years of innuendo and accusations that he was a Russian spy, and "countries don't give up their spies."
"Speak not because it is safe, but because it is right," Snowden also tweeted, seeming to acknowledge a modicum of potential danger.
Snowden's lawyer at the American Civil Liberties Union, Ben Wizner, told NBC that the former National Security Agency contractor's team had not heard any rumblings of a possible transfer. "Team Snowden has received no such signals and has no new reason for concern," Wizner said.
Dmitry Peskov, a spokesman for Russian President Vladimir Putin, told NBC the notion of Russia handing Snowden over was "nonsense."
Since 2013, Snowden has been based in an undisclosed location in Russia, where he sought asylum. The Kremlin granted him temporary residency, which was extended for three years in 2014 and again in January 2017, allowing him to stay until 2020.
Several members of the Trump administration — not least the president himself — have been hard-liners against the whistleblower. As the Snowden revelations were breaking in the summer of 2013, Trump suggested in an appearance on Fox News that Snowden should be killed, repeatedly calling him a "traitor." In February 2016, now-CIA director Mike Pompeo said, of Snowden, "He should be brought back from Russia and given due process, and I think the proper outcome would be that he would be given a death sentence." 
President Barack Obama declined to pardon the whistle blower.
Snowden, who was a contractor for the NSA after being an employee of the CIA, leaked a trove of documents to Western journalists in the summer of 2013. He was charged with "theft of government property," "unauthorized communication of national defense information" and "willful communication of classified communications intelligence information to an unauthorized person" — with the latter charges based in provisions of the 1917 Espionage Act. 
Snowden's leaks revealed programs to collect data from millions of Americans' communications. Those programs were later ruled illegal in court, eventually spurring minor intelligence reforms.