Carl Higbie, a former Navy SEAL, has reportedly interviewed for Sean Spicer's job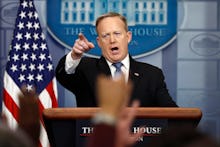 White House press secretary Sean Spicer might want to start updating his resume.
According to an exclusive report from the Washingtonian, former Navy SEAL Carl Higbie has gone through multiple rounds of interviews for Spicer's position, the most recent of which was Thursday.
"Well, I can say that I've offered my services," Higbie told the outlet. "I haven't heard back from the administration yet. I'm honored to be even considered for this."
But in a tweet Friday night, Higbie clarified that he had simply spoken to members of the administration regarding communications or [spokesperson] positions." He went on to emphasize, "NO formal interviews." 
CNN reported on Wednesday that President Donald Trump was "disappointed" with Spicer's shaky start during his first two weeks in the press secretary role, and would "ramp up" searches for a new communications director.
In essence, Spicer has been working overtime, taking on both the press secretary and communications director positions — jobs that have always been intended for two separate people. All things considered, it looks like Higbie could be auditioning for the latter of the two roles.
And he seems poised to at least make the final round of interviews.
He was a vocal supporter of Trump throughout his presidential run, acting as the spokesperson for pro-Trump PAC Great America. 
Shortly after Trump's victory, Higbie appeared on Fox News' The Kelly File, promoting the then-president-elect's proposed Muslim registry, saying it would "hold constitutional muster." Why? Because Japanese internment had set a precedent.
"We've done it with Iran back awhile ago. We did it during World War II with the Japanese," Higbie told a shocked Megyn Kelly at the time.
He added, "Look, the president needs to protect America first, and if that means having people that are not protected under our Constitution have some sort of registry so we can understand — until we can identify the true threat and where it's coming from, I support it."
Higbie seems like he's ready to make America great again — and that could be enough to land him a spot in Trump's administration.