15 photos from the massive nationwide protests against Trump's deportations and Muslim ban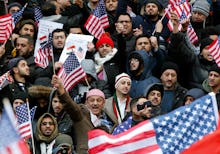 For the fourth straight weekend since President Donald Trump's inauguration, protesters have filled the streets of cities around the country to voice their indignation with the president's policies. 
Trump's de facto Muslim ban and recent news of immigration raids continued to be the two main news items spurring the protests, though some also came out to protest the silencing of Elizabeth Warren on the Senate floor. 
In New York, an impromptu demonstration against the immigration raids attracted protesters with signs denouncing Immigration and Customs Enforcement. Many signs and tweets used the hashtags #DeportICE, #NoBanNoWallNoRaids and #HeretoStay to vent their frustration. 
Meanwhile, in Louisville, Kentucky, people stormed the front yard of Mitch McConnell to protest his silencing of Warren when she tried to read a letter by Coretta Scott King denouncing newly appointed Attorney General Jeff Sessions. According to Twitter, people gathered outside the Senate majority leader's home to read King's letter en masse. 
Americans have been protesting Trump in large numbers since his inauguration. Last weekend, a set of rallies nationwide brought people into the streets, including at New York City's Stonewall Inn, considered the birth of the modern LGBTQ civil rights movement. 
The weekend prior, thousands gathered at airports across the country to support those who had been detained after Trump signed his executive order banning refugees and travelers from seven majority-Muslim countries from entering the United States.