Nikki Haley thinks this Palestinian shouldn't work at the UN just because he's Palestinian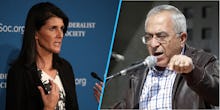 Former Palestinian Prime Minister Salam Fayyad will not be heading a United Nations mission to Libya — mostly because he's Palestinian. 
The United States blocked U.N. Secretary General Antonio Guterres' appointment of Fayyad to head the mission, issuing a statement from Trump's ambassador to the U.N., Nikki Haley. Haley said she was "disappointed" in the U.N., implying that appointing Fayyad would be a signal of support to Palestine and a knock to Israel. 
"For too long, the U.N. has been unfairly biased in favor of the Palestinian Authority to the detriment of our allies in Israel," Haley said. "Going forward, the United States will act, not just talk, in support of our allies."
Whether or not Haley's letter ultimately dooms Fayyad, who served as Palestinian Autority prime minister from 2007 to 2013, remains to be seen. 
On Saturday afternoon, a report in Foreign Policy citing diplomatic sources said Haley's statement was actually an about face, and that she was set to approve Fayyad prior to the statement. The diplomats said, according the website, that they "suspect that the White House stepped in at the last minute to kill off the appointment."
A spokesperson for the UN chief's office told Foreign Policy in an email Saturday that "based on the information available to him at the time, the Secretary-General had the perception, now proven wrong, that the proposal would be acceptable to Security Council members."
Fayyad, acting as a technocratic leader, gained international respect and recognition for tackling corruption in Palestine and building up its public institutions, according to Reuters. He garnered praise from Israeli officials, including some on the political right.
Haley's statement surprised many at the U.N., according to Al Jazeera's Rosiland Jordan. Jordan said Fayyad is "universally liked" by U.N. diplomats and added that her sources thought he would be approved as early as next week.
Haley also said in her statement that the U.S. "does not currently recognize a Palestinian state," though 137 of the 193 members of the U.N. do. 
What's more, Fayyad's appointment to head the U.N. mission in Libya was based on his qualifications, having nothing to do with the Palestinian-Israeli conflict. Trump's administration, though, has aired vocal support for Israel — apparently extending to keeping Palestinians from getting any jobs at all. 
"United Nations staff serve strictly in their personal capacity." Guterres' spokesman Stephane Dujarric told Reuters. "They do not represent any government or country."
Hanan Ashrawi, a senior member of the Palestine Liberation Organization told Al Jazeera that Haley's statement was "absolutely ridiculous." 
"This is discrimination against the Palestinian people as a whole," she said. "This is the rejection, beyond logic, of the most qualified person with the highest standard of profession and integrity."
Feb. 11, 2017, 3:13 p.m.: This story has been updated.