Jessica Alba was told she "wasn't Caucasian enough to play the leading lady" by Hollywood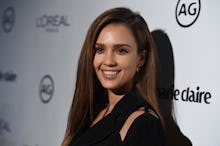 Jessica Alba may have starred in films like Sin City and the original Fantastic Four franchise, but something stood in the way of her getting more lead roles: her ethnicity. 
In an interview with PopSugar, Alba confessed that at the beginning of her career, her skin color made it harder for her to go up for leading roles against other Latina and white actresses. 
"They couldn't figure out my ethnicity. I would always go out for 'exotic,'" Alba said. Alba grew up with her father's Mexican-American family. "They were like, 'You're not Latin enough to play a Latina, and you're not Caucasian enough to play the leading lady, so you're going to be the "exotic" one.' Whatever that was."
Alba, who owns the body care and lifestyle line Honest Co., said Hollywood's inability to deal with her skin color was a "weird thing to wrestle with." 
"I never had to look at myself that way or stick myself in a bucket," she said. "So I was more determined to be a leading lady to show that girls can look like me, and we can be leading ladies." 
As a Latina in Hollywood, Alba faces more than just skin color bias. In both 2015 and 2016, almost no Hollywood films were Latino-led. 
On the other hand, as a light-skinned Latina in Hollywood, Alba probably gets more opportunities than darker-skinned women. While bias against Latinas is a problem, colorism in Hollywood also means light-skinned actresses get preference over dark-skinned ones, as was the case when Afro-Latina Zoe Saldana was cast as dark-skinned Nina Simone and made everyone uncomfortable.