Queer black people used #BlackGaySlay to show their vibrant beauty for Black History Month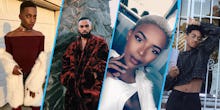 Most people associate Black History Month with celebrating black accomplishments. But on Friday night, a new hashtag emerged on Twitter that was about more than just black accomplishment — it celebrated black queer beauty. 
Twitter users of many genders shared photos of themselves slaying all of your faves with the hashtag #BlackGaySlay.
Aside from sharing pictures of themselves, some users shared pictures of famous black queer people. They included civil rights icons, activists, musicians and writers.
A few faceless, milk-chugging, racist Twitter users tried to dampen the spirits of the hashtag with trolling, but users made it clear that nothing can stop the #BlackGaySlay. 
By the time everyone had shared their pictures and stories, one thing was clear: Black queer people snatch every wig.