Dominican newspaper apologizes for using photo of Alec Baldwin instead of Donald Trump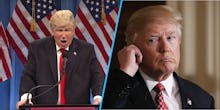 There are two things that President Donald Trump hates more than anything: the press and Alec Baldwin's satirical impression of him on Saturday Night Live. 
On Friday evening, a picture circulated social media of Dominican Republican newspaper El Nacional accidentally using a picture of Baldwin as Trump and captioning it as a photo of Trump. The photo was used in an article about Trump's stance on Israel. 
On Saturday, El Nacional published an apology for the photo. 
"The National offers an apology to the readers and all who felt affected by the publication," the apology read, in Spanish. According to the apology, the newspaper received the photo from the Associated Press along with information about Baldwin's impression of Trump on Saturday Night Live, but newspaper staff thought the photo was of Trump, not Baldwin. 
"The situation went unnoticed for all that reviewed page 19," the apology read. 
On Twitter, people predicted that Trump might have words for the newspaper, given his dislike of both Baldwin and newspapers. 
Baldwin has been portraying Trump on Saturday Night Live since October. He's not the only actor who's gotten in on the fun, however. Earlier in February, Melissa McCarthy skewered press secretary Sean Spicer on the program, which rattled the White House — because McCarthy is a woman. Hearing Trump's sensitivity on the subject, comedian and Trump arch-nemesis Rosie O'Donnell threw her hat into the ring to potentially play top adviser Steve Bannon.