Protests, riots continue after Paris police accused of raping 22-year-old black man with baton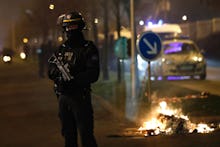 Days of both peaceful protests and rioting have rocked metropolitan Paris after a group of officers allegedly beat and sodomized a 22-year-old black man with a police baton. 
The man, only identified as Theo, told BBC he was leaving his house in the suburb of Aulnay-sous-Bois when he was stopped by police doing identity checks that are believed to target drug dealers. During the stop, officers are said to have beaten and penetrated the man with the baton, leaving him with anal injuries severe enough to require hospitalization and surgery. Authorities subsequently charged three officers with assault and one with rape.
Police officials have insisted the incident was a bizarre accident, according to AFP, saying officers were "applying a truncheon blow horizontally across the buttocks" and "there are insufficient elements to show that this was a rape."
According to AFP, French President Francois Hollande visited Theo in the hospital personally to express "solidarity."
Protests continued well into Saturday evening, according to Le Parisien.
In another incident last year, black Frenchman Adama Traoré was found dead of asphyxiation in a police courtyard in Beaumont-sur-Oise, sparking weeks of protests and riots.
The incident comes as French authorities are under fire for widespread allegations of misconduct.
A recent report in the Independent found rampant abuse of power by Parisian police while dealing with refugees, who are "beaten and tear gassed by officers in the French capital, despite government pledges to shelter vulnerable people." The Independent spoke with homeless refugees who not only had blankets seized in freezing temperatures and property randomly stolen, but also had been assaulted by police officers and had their settlements forcibly dispersed.