Here's how hospitals can heal through sustainability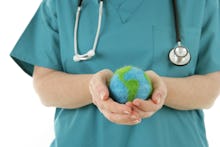 In network, out of pocket, copays, deductibles — there's no shortage of ways to talk about the costs of staying healthy. And while the current debates around health care focus on the financial costs, we also need to consider the cost to our environment. 
According to a June 2016 study, if the U.S. health care industry were a nation, it would rank 13th in greenhouse gas emissions. While a previous study found the health care industry caused 8% of the country's carbon emissions, the new study found these emissions caused 12% of acid rain, 10% of smog formation and 9% of respiratory disease from particulate matter in 2013. Moreover, hospitals are among the top 10 in their communities for water use and the single largest users of chemical agents. The volume of hospital waste is staggering — more than 2.3 million tons per year. 
By taking steps to limit these environmental impacts, the health care industry can promote the long-term health of our communities, particularly the most vulnerable populations. But while the health benefits of instituting more sustainable practices may be self-evident (cleaner air, safer handling of hazardous waste), the financial benefits may surprise you. Multiple reports conclude the U.S. health care industry could actually save as much as $15 billion over 10 years by adopting more sustainable practices. 
Here are three ways hospitals can save lives — and money — through sustainability.
Enlightened lighting
The first and simplest step in improving sustainability is to modernize lighting. According to a report by best practices firm Advisory Board, lighting accounts for 43% of all electricity used by health care providers and releases more than 10 million pounds of CO2 into the atmosphere.
Shutting off 20% of the lights from 1:00 a.m. to 5:00 a.m. could save a hospital $10,000 a year alone. Installing LEDs in exit signs could save an additional $15,000 a year. And switching to energy-efficient lights could save more than $100,000 a year. The total possible savings could reach upwards of $600,000 a year.
According to Sister Mary Ellen Leciejewski, director of ecology at Dignity Health, even one sustainability initiative implemented across networks of hospitals can effect significant change. Simply replacing the exterior lighting in Dignity Health's 39 partner hospitals had "an annual energy savings of $508,000 and avoided the annual maintenance costs in the amounts of $530,000."
Energy efficiency
Tackling overall energy consumption is the next step toward sustainability. By implementing efficiencies — such as reducing equipment use, optimizing airflow and upgrading to a new HVAC system to regulate temperatures based on the time of day — health care facilities can reduce air pollution and thus the incidence of respiratory illnesses in the communities they serve.
According to an Advisory Board report on energy efficiency, such efforts can help a hospital save up to $1.8 million annually.
Because hospitals use large quantities of water, they are perfect candidates for implementing a cogeneration system. Whereas heat and electricity are traditionally produced separately, cogeneration can produce both heat and electricity simultaneously — and more efficiently — from a single fuel source, such as a gas turbine. Rather than waste the heat generated by electricity production, hospitals can use it to heat water for laundry or space heating.
In areas like California, where access to clean water is an issue for the community (especially in times of drought), limiting water use to one's own fair share is important. "Water sources are so often contaminated, especially in poorer communities," said Leciejewski. "When we understand how much water our hospitals are using, then we can make some pretty wise and important choices cutting down on water use."
Leciejewski refers to Marian Regional Medical Center in Santa Maria, Calif., which has been using a cogeneration plant for 10 years now. The hospital has laid pipes to trap and transport methane released from its primary landfill about a mile away. By harnessing the natural gas, the facility produces renewable heat and electricity that significantly reduces the impact of its carbon footprint. This program was so successful, Marian Medical built a second cogeneration plant to double its renewable energy production.
In addition to eliminating water waste from energy production, cogeneration can reduce air pollutants generated by a traditional coal-power plant by some 40%. While it does require an initial investment of $2 million to $5 million to build a cogeneration plant, health care facilities can receive rebates and government subsidies for sustainable initiatives. It can save a 500-bed hospital $400,000 in annual savings.
Cutting waste
Reducing waste is a key component of sustainability initiatives across all industries. Efficient waste management, including recycling and proper disposal of medical waste, can dramatically reduce energy use, greenhouse gas emissions, the amount of waste that ends up in landfills and the risk of contamination.
Hospitals can generate up to 42 pounds of waste per patient per day, according to Leciejewski. Everything from "red bag" waste to food, water and other nonhazardous items add up to approximately 2 million tons of medical waste across the country each year. And the industry spends $10 billion annually to dispose of that waste.
Hazardous chemical and biological materials make up only 5%-15% of hospital waste — the rest is non-regulated waste, up to 60% of which can be recycled or composted. By more efficiently sorting recyclable, organic and landfill waste, hospitals can save some $4 billion to $7 billion for the industry annually.
"Sustainability initiatives can have far reaching implications — reducing chronic and respiratory disease, obesity, cardiovascular risk and improving mental health," says Leciejewski. "By working at both the facility and corporate level, through green investments, smarter supply chains and even in governance at the legislative level, we are putting sustainability first for the sake of the health of people and the planet."
More from Mic and Dignity Health: Find out how art therapy is helping U.S. veterans and others to cope with PTSD and traumatic brain injury.