Yale renames Calhoun College in honor of Grace Murray Hopper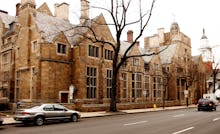 Yale University will officially change the name of Calhoun College, its residential college named after John C. Calhoun — an 1804 graduate, South Carolina politician and infamous white supremacist.
It will instead rename the complex after Grace Murray Hopper, "a United States Navy Rear admiral who made pivotal advances in computer science," the Yale Daily News reported Saturday.
"The decision to change a college's name is not one we take lightly," Yale University President Peter Salovey wrote in an email to students. "But John C. Calhoun's legacy as a white supremacist and a national leader who passionately supported slavery as a 'positive good' fundamentally conflicts with Yale's mission and values."
The decision is the first renaming in the university's 316-year history, according to the Daily News, and it came after a university task force recommended the school take action.
Calhoun is widely considered one of the architects of institutionalized racism in the U.S. as well as the American Civil War, and he was well-known in the first half of the 19th century as one of the world's most outspoken white supremacists. While Calhoun served as senator, vice president and cabinet official, he owned slaves. The politician "supported the institution of slavery for many reasons, but at the bottom of all his argument was this," writes HistoryNet. "He believed the African race was inferior."
In April 2016, Yale declined to rename the college, passing on an opportunity to feature someone not committed to the oppression of nonwhites.
In 2015, a statue of Calhoun was vandalized in downtown Charleston, S.C. in the wake of white supremacist Dylann Roof's assault on the city's Emanuel African Methodist Episcopal Church, which left nine black churchgoers dead.
Hopper, for her part, earned world renown for her contributions to early computer science. She was one of the first women to earn a Ph.D at Yale in mathematics and made fundamental advancements in the development of computer programming languages, including the invention of the first compiler.