Alec Baldwin as Donald Trump paid a visit to 'The People's Court' on 'Saturday Night Live'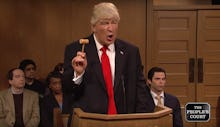 After three federal judges upheld the nationwide stay on President Donald Trump's travel ban, Trump announced on Twitter that he would "SEE YOU IN COURT" — and on Saturday Night Live, he did exactly that.
The Feb. 11 episode of SNL, which was hosted by Alec Baldwin, featured Baldwin as Trump taking the 9th Circuit judges who ruled against him to court — The People's Court, that is.
"Mr. Trump, you understand this is a TV court, right?" Cecily Strong as Judge Marilyn Milian asked.
"That's ok, I'm a TV president," Baldwin's Trump responded.
Trump tried to make the case for his ban, which he wanted reinstated, along with $725. 
"The bad people, they're pouring in," Baldwin's Trump argued, "And you see them, and it's ISIS, and San Bernardino and Chicago. I mean, look at Chicago. It's hell. There are bad dudes coming in here, bad hombres, bad boys, bad boys, whatcha gonna do."
Like so many women before her, however, the female judge — also known as a "flight attendant," in Trump's mind — wasn't going to stand for Trump's lies.
"You know, earlier this woman asked me to award her joint custody of a snake. And she had more of a case than you, OK?" Strong as Judge Milian said, adding that his reasoning for the ban "sounded less like an argument and more like refrigerator poetry."
To help his case, Trump then brought in a character witness who "knows [him] better than anyone": Russian President Vladimir Putin.
"Hey everybody, come on! Lay off President Trump, OK?" Putin, as played by Beck Bennett, said. "This man is a great friend. He's my little American Happy Meal. He will do anything for you. Go against his own country just to make you happy."
Despite Trump's arguments — and a last minute call to "settle out of court" — the judge ultimately ruled in favor of the federal judges, pointing out that the ban "seemed rushed, even to me, and I decide three court cases in an hour."
"And let me just say: You're doing too much," Strong added, saying what so many around the country are thinking. "I want one day without a CNN alert that scares the hell out of me. Alright? Look, I just want to relax and watch the Grammys. And no one has ever said that."
Though Trump was ultimately unsuccessful, however, this was not his only case in The People's Court. Next up? Trump versus a manager at Nordstrom.