ICE raids in New York City, nationwide inspire protests and fear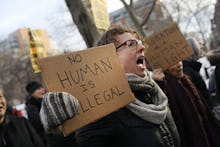 By rounding up immigrants in their homes and on the street, President Donald Trump is "merely" keeping his word, he tweeted early Sunday morning. Raids by United States Immigration and Customs Enforcement, especially in sanctuary cities like New York, have people rattled.
"Gang members, drug dealers & others are being removed!" the president wrote. It's the "and others" part that's especially worrisome. 
Among Trump's first actions as president was the signing of an executive order that provided for the building of his beloved border wall with Mexico, and beefed up immigration enforcement staffing. Recent raids suggest that he is moving along with his plans — and quickly.
A leaked memo from ICE said 40 "foreign nationals" were arrested between Monday and Friday in New York City alone, PIX11 News reported. Of those taken into custody, the memo allegedly said, nearly 95% had criminal convictions. 
According to a previous report from PIX11, Staten Island saw five arrests between Feb. 3 and Feb. 8, four of which involved ICE agents raiding individual's homes, while the other took place outside a Staten Island courthouse. The outlet has not yet confirmed whether or not those arrested had the criminal records Trump has deemed decisive. It did note that four of the people arrested have children who are U.S. citizens.
New York is one in at least 39 sanctuary cities in the United States. Being a sanctuary city, however, simply means municipal authorities will not work with or aid federal immigration officials. It does not mean that agencies like ICE can't conduct raids in those cities. Nonetheless,  people are pushing New York City Mayor Bill de Blasio to stand up to Trump on immigration.
On Saturday, hundreds of protesters filled New York's Washington Square Park in a rally for immigrants' rights that directly followed a demonstration for Planned Parenthood and reproductive rights. A subsequent protest convened at the city's U.S. Citizenship and Immigration Services office on Saturday evening. But New York is far from the only area affected. 
Between Monday and Friday, ICE agents detained 160 people in Southern California. ICE has also conducted raids in Texas, Virginia, North Carolina and Kansas, and, according to a tweet by the Daily Beast's Betsy Woodruff, an ICE spokesperson suggested that the sweeps in New York, Los Angeles and Chicago were coordinated. 
Among the first undocumented immigrants scheduled for deportation was Guadalupe García de Rayos of Arizona, a 35-year-old woman with two children, both of whom are U.S. citizens. García de Rayos had lived in the country since she was 14, but was deported Wednesday after showing up for a routine meeting with ICE agents. García de Rayos was arrested in 2008, when she was discovered to be using a fake social security number, the result of worksite raids by former Maricopa County Sheriff Joe Arpaio. Immigration officials allowed García de Rayos to remain in the U.S., provided she checked in regularly with ICE.
It's people like García de Rayos who seem to represent the "and others" Trump referred to, and the prospect of families being separated in their homes that have people worried. 
We can expect that protests will continue, and in the meantime, organizations like the ACLU are working to ensure that immigrants know their rights should ICE agents arrive on the doorstep.