KKK "Imperial Wizard" Frank Ancona found dead in river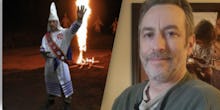 The imperial wizard of a Missouri Ku Klux Klan chapter has been found dead, the Kansas City Star reported Sunday. 
While out fishing, a family spotted Frank Ancona's body near the bank of the Big River in Belgrade, Missouri. A Federal Forestry Service employee found Ancona's car Friday on a service road in Potosi, Missouri, according to the Daily Journal. 
"We left deputies at the scene and secured it overnight due to the loss of light," Washington County Sheriff Zach Jacobsen told the Journal. "On Saturday morning we conducted a search of the area by foot by member of the Potosi Fire Protection District and the sheriff's office. We didn't locate much of anything in the woods, but we did locate evidence of a burn pile near Mr. Ancona's vehicle."
Later that day, the Washington County dispatch center received the call about a body near the river. 
Jacobsen told the Journal on Saturday that no one had been charged in Ancona's death, but added "that may change tomorrow."
Ancona, leader of the Traditionalist American Knights of the Ku Klux Klan, had not been seen or heard from since Wednesday. His wife, Malissa Ancona, told authorities her husband received a call that morning from his employer dispatching him across the state to deliver a part, the Journal reported. He packed some clothes and "all of his firearms," except for the one he always kept on his person. 
According to the Journal, Malissa Ancona reportedly posted to Facebook seeking a roommate around the time of her husband's disappearance. She told Leadwood Police Chief William Dickey that Ancona said he'd be filing for divorce when he returned from his work trip, so she made the post — which seems to have since been deleted — to seek help paying rent.
Family members told authorities Ancona's radio silence was unusual, as was his decision to take his guns. Ancona's employer denied sending him on the cross-state job.  
The Journal made no mention of Ancona's Klan activity, but in 2015, the Kansas City Star interviewed him for a series on domestic terrorism that included other white nationalist leaders. At the time, Ancona described his group as a Christian organization that did not promote hate or condone violence.
"I've actually taken a lot of heat from other white nationalists because of that," Ancona told the Star. "I'm called an N-lover and a Jew, blah, blah, blah. I'm doing everything I can to hold it to the principles it's supposed to be by."
But a quick visit to the Traditionalist American Knight's website group's suggests otherwise. "We of the Traditionalist American Knights of the Ku Klux Klan are unapologetically committed to the interest and values of the white race! We are determined to maintain an enrich our cultural and racial heritage!" reads a scrolling banner that runs between two KKK emblems, accented with animated flames. 
The order, the website stipulated, is specifically for "white Christian men of intelligence and character" and is "racial in nature." Its members are expected to "strive forever to maintain the God-given supremacy of the white race."
The Traditionalist American Knights actively engage in cross burnings — described by Ancona as ceremonial "cross lightings," according to the Star — and has been classified as a hate group by the Southern Poverty Law Center. For his part, Ancona had a YouTube channel where he posted recruitment and cross-burning videos. 
"It's very touching," he told the Star of cross burning. "It's almost like a revival at a church. You kind of come away feeling on fire for Christ, and you want to go out and spread the word."