DeVos' Education Department misspelled W.E.B. Du Bois' name — then misspelled its apology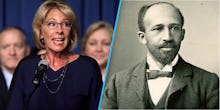 The Trump administration hasn't had a great track record when it comes to Black History Month. Donald Trump and Sean Spicer revived Frederick Douglass from the dead, Vice President Mike Pence used the holiday to honor a white man — and now, the Department of Education has shown its own ignorance.
On Sunday, the Education Department — which is overseen by Betsy DeVos — tweeted out a quote by African-American scholar and NAACP co-founder W.E.B. Du Bois. 
The problem? When sharing Du Bois' thoughts on the importance of education, they couldn't be bothered to proofread the activist's own last name.
Twitter users were quick to point out the unfortunate misspelling:
The department later apologized for the misspelling and issued a corrected version of the tweet — but not before they could get yet another typo into their first (now deleted) apology tweet.
The misspelled tweets don't inspire confidence in the DeVos-led Education Department. Many already have concerns about the future of U.S. public education under DeVos, who has no personal experience either attending or sending her children to public schools.
The department's praise of Du Bois also stands in stark contrast to DeVos' leadership, which may ultimately hurt black and Latino students the most. DeVos has no experience with federal Pell Grants, which particularly benefit African-American and Latino students, and the education secretary advocates for charter schools, which segregate students of color.
As they move forward, perhaps the department — and the Trump administration — should heed another quote by Du Bois: "Either the United States will destroy ignorance or ignorance will destroy the United States."