NASA scientist Sidd Bikkannavar says he was forced to unlock phone at airport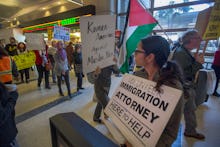 Before it was temporarily halted by federal judges, President Donald Trump's Muslim ban affected thousands of people worldwide. While much of the focus has rightly been on the refugees and immigrants whose lives were affected by the ban, it's also affected U.S. citizens — including a NASA scientist.
Sidd Bikkannavar, who works in NASA's Jet Propulsion Laboratory, was detained by U.S. Customs and Border Patrol on Jan. 30 upon returning to the United States from Santiago, Chile, the Verge reported. 
Bikkannavar is a natural-born U.S. citizen enrolled in CBP's Global Entry program, which allows participants who have undergone a background check to expedite their entry into the U.S. and select other countries. He also has not visited any of the countries mentioned in Trump's Muslim ban, meaning there's no reason why he should have been detained under the executive order — though customs officials may have taken notice of his southern Indian surname, Bikkannavar said to the Verge.
Upon arriving at Houston's George Bush Intercontinental Airport, Bikkannavar was detained by CBP officials, who asked him questions about his background — which are already provided through Global Entry — and demanded access to his work cell phone, which was officially NASA property.
"I was cautiously telling him I wasn't allowed to give it out, because I didn't want to seem like I was not cooperating," Bikkannavar told the Verge. "I told him I'm not really allowed to give the passcode; I have to protect access. But he insisted they had the authority to search it."
Manually searching devices on the basis of someone's race or natural origin is illegal, the Verge noted, and though travelers may be detained if they decline to give their phone's PIN to a customs agent, they are not legally required to do so.
"In each incident that I've seen, the subjects have been shown a Blue Paper that says CBP has legal authority to search phones at the border, which gives them the impression that they're obligated to unlock the phone, which isn't true," Hassan Shibly, chief executive director of the Council on American-Islamic Relations of Florida, said to the Verge. "They're not obligated to unlock the phone."
Ultimately, however, Bikkannavar did unlock his phone, which was returned to him after the customs official spent 30 minutes with the phone out of Bikkannavar's view. Bikkannavar is unsure about what was done to his phone during that time, and reports that his lab's cybersecurity team is similarly unhappy about the breach of privacy. Bikkannavar has since received a new phone from his employer with a new phone number.
Though he was ultimately able to leave, Bikkannavar said he remains shaken by the experience. The scientist told the Verge he was "caught off guard by the whole thing," and remains unsure why he was singled out.
"It was not that they were concerned with me bringing something dangerous in, because they didn't even touch the bags,"  Bikkannavar told the Verge. "They had no way of knowing I could have had something in there. You can say, 'Okay well maybe it's about making sure I'm not a dangerous person,' but they have all the information to verify that."